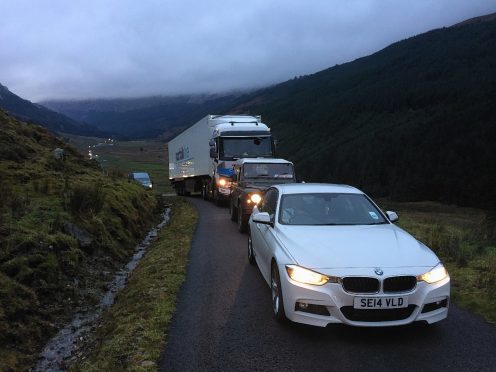 The emergency diversion route at the infamous Rest and Be Thankful road in Argyll is to be widened as part of efforts to end the misery caused to motorists by regular landslides.
Transport Minister Humza Yousaf revealed the move after attending a meeting of the A83 Taskforce yesterday.
The Rest and Be Thankful hill pass on the A83 Tarbet to Campbeltown road has become notorious for landslides, which, until the Old Military Road diversion was brought into operation, caused a 60-mile detour for drivers.
The meeting yesterday was the first since Mr Yousaf was appointed as transport minister and he underlined the Scottish Government's commitment to working with partners to maintain access to the area.
Since the last taskforce meeting in January, further improvements include £365,000 spent on debris barrier repairs and improvements, and £1.065million on resurfacing works at five locations.
A total of £150,000 has been invested in safety fencing, £125,000 in hillside drainage at Loch Shira.
Drainage works to the value of £112,000 have been completed on the Old Military Road diversion route, and £150,000 of vegetation clearance has been done at Erines.
In the coming months, major work is planned at Strone Point and the Local Diversion Route along the Old Military Road will also be widened to help speed up journey times if it is brought into use.
Mr Yousaf said: "I made it a priority to visit the Rest and Be Thankful to find out more about the landslide mitigation work taking place when I took up the post of transport minister earlier this year as I understand how important it is to the local area.
"The Scottish Government is committed to the task and invested over £53million in the A83 overall since 2007 to ensure that it operates safely and efficiently.
"The important programme of landslide mitigation works is continuing at pace to keep the area open for business. By the end of 2017/18, we will have invested £13.5million to mitigate the effects of landslides at the Rest and Be Thankful.
"We are listening to what people are telling us and work to improve the Old Military Road Diversion Route is on-going, following discussions at the last Taskforce meeting in January.
"It was very interesting to hear the views of those at the meeting today and I am sure that we can make progress on the issues raised and strengthen our approach as we move forward with the community."