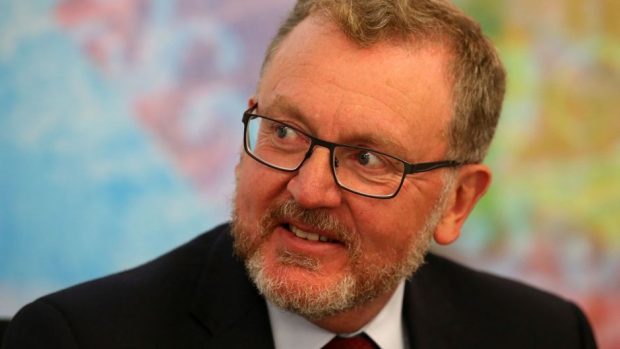 Scottish Secretary David Mundell has given a clear indication that Kinloss Barracks has a future – but that Fort George may not.
The Conservative minister spoke positively about the Kinloss Barracks shortly before a meeting last night with a delegation from Moray that is fighting the corner of the base.
But he signalled in an interview with the Press and Journal that the ancient Fort George barracks in the Highlands may be nearing the end.
He described the ongoing process as "operational" and gave little away about any insight that he personally may or may not have into the £1billion cost-cutting exercise by the Ministry of Defence (MoD).
But Mr Mundell said: "It is the effectiveness of Fort George as a base for military use that will determine its future and that is the right approach.
"The issues in relation to Fort George as a facility where servicemen are based are well known in terms of its age, its condition, the overall nature of the facilities there.
"Kinloss, on the other hand, is a relatively new Army facility.
"I have not understood the level of speculation that has arisen around Kinloss.
"I don't see what basis there was for the speculation that it was going to be closed or reduced."
Asked if he was as optimistic about the future of the 250-year-old fort near Inverness, he said: "The issues with Fort George are well known in terms of its condition and its ability to attract service personnel. It's a very old facility with poor conditions."
Quizzed on whether was a justification for shutting it down, he said: "I'm not prejudging the exercise. I'm just saying that in relation to Fort George there are well known issues in relation to its capacity as a facility. Those are not things that people would say about Kinloss."
The MoD has repeatedly stated that no announcement will be made until it concludes its review.
Mr Mundell, speaking at the new Inverness HQ of development agency Highlands and Islands Enterprise, said he had consistently pressed for an early decision.
Asked if there were wheels in motions to address the potential loss of more than 700 local jobs and £16million to the local economy were Fort George to close, he said: "We're not at that stage.
"What we're having is a review and that review, I hope, can reach a speedy conclusion.
"When it reaches its conclusion then any issues that it throws up will clearly have to be dealt with."
More than 5,000 people have backed the Press and Journal's campaign to save Fort George.