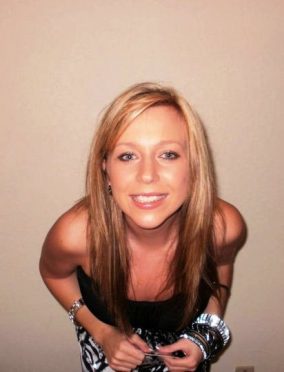 Family and friends of a Lochaber woman who died of skin cancer have donated more than £10,000 to buy equipment for local palliative care patients.
Fort William hairdresser Kelly MacDonald, who was diagnosed with a malignant melanoma in May last year, lost her battle with the condition last September. She was 29.
After her diagnosis, Kelly started organising fundraising events to help pay for her treatment.
When she became too ill to organise them herself, her friends and family carried on, bringing the total raised to around £22,000.
And on the anniversary of her death, they donated £10,300 to NHS Highland's Lochaber Community Nursing fund in recognition of the fantastic care Kelly received from the local district nurses.
They also thought it appropriate that the monies donated were used for palliative care patients by the community nurses in Lochaber.
Now her family and friends plan to distribute the rest of the money raised to other deserving health-related causes in the Lochaber area.
Mum Wendy said: "It's good that people remember Kelly.
"I still cannot get used to her not being here.
"I would like to thank everybody for their amazing generosity."
The fundraising started initially with a coffee morning in the salon Kelly owned.
This was followed by a garden party with cakes and raffles.
But her idea for a sponsored climb up Ben Nevis – called Kelly's Klimb – took the fundraising to another level.
Wendy, who works as a health care assistant at Belford Hospital, said: " It was amazing.
"For instance, a team of four men were sponsored to cycle 40 miles and then run up Ben Nevis carrying their bikes on their shoulders.
"In total, over 50 people participated in Kelly's Klimb and that's where the majority of the money was raised."
Her family and friends were then faced with the difficult decision of what to do with the cash.
Her mother added: "We decided as the money was raised in Lochaber, it should stay in Lochaber.
"And we wanted some to be for palliative care because, like Kelly, a lot of people want to stay and be cared for at home."
They have bought comfortable mattresses, assisted "rise and recline" electric chairs and tables that can be fitted over beds.
And, there was one bit of equipment that the group especially wanted to buy.
Wendy said: "The district nurses were fantastic and they would try to get anything that Kelly asked for and needed.
"But the one thing that Kelly really wanted was a simple thing, a bath chair, an inflatable bath chair.
"Unfortunately, the one they had was no longer fit for use so we made sure that a bath chair was on the list of equipment."
The family also wants to raise local awareness about malignant melanoma.
Wendy said: "Due to the wet climate in the Highlands, people think they cannot develop skin cancer, but it can only take one ray of sunlight for your skin to get damaged.
"Even when the sun is hidden on a dull day your skin can still change colour, which can sometimes lead on to developing
cancer.
"Kelly said that if she'd got better, she wanted to sell her business and educate people about the dangers of not properly protecting your skin."