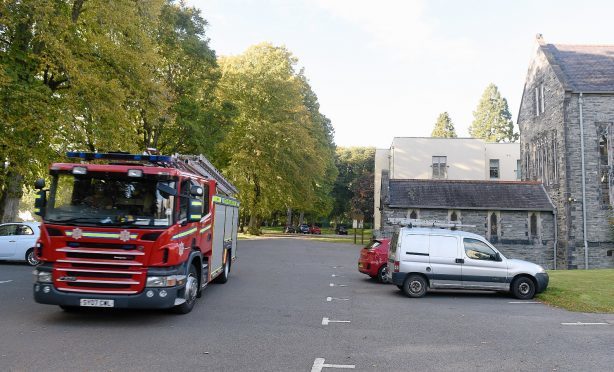 Part of a luxury leisure facility within a former Highland abbey has been partially destroyed by fire.
Firefighters spent almost five hours at the former St Benedict's Abbey in Fort Augustus after a fire was reported in the sauna.
The former grand building at the southern end of Loch Ness now serves as holiday accommodation, complete with leisure facilities.
A spokesman for the fire service confirmed that the steam room of the facility had been destroyed in a small fire, which other parts of the sauna area had suffered smoke damage.
Nobody was injured in the incident.
Crews from Fort Augustus, Fort William and a specialist unit from Inverness attended at the scene and spent hours after extinguishing the fire checking the building for any spread.
A spokesman for the fire service said: "There was a fire in a sauna within a leisure club area at the abbey.
"The steam room was destroyed and there was some smoke damage to the rest of the area."
Crews finally left the scene at around 4.30pm after a thorough check of the area.
No evidence of the damage could seen from the outside of the grand A-listed building
The abbey was formerly used as a monastery and school by Benedictine monks.
It was built on the site of a former fort which was erected to aid of the suppression of the Jacobite cause.
It operated as a school until 1993 and the monks left in 1998 after an attempt to use parts of the abbey as a tourist attraction failed to generate sufficient income.
The abbey was initially sold to a consortium involving TV personality and naturalist Terry Nutkins.
They in turn sold the buildings to The Santon Group, which carried out a £30million conversion to create high-end holiday apartments and private residences.
The facility is now known as The Highland Club and also includes luxury leisure facilities including the indoor pool, steam room and sauna, as well as outdoor sporting facilities such as table tennis, badminton, croquet, boules and football.
Staff at the facility declined to comment on the fire yesterday.