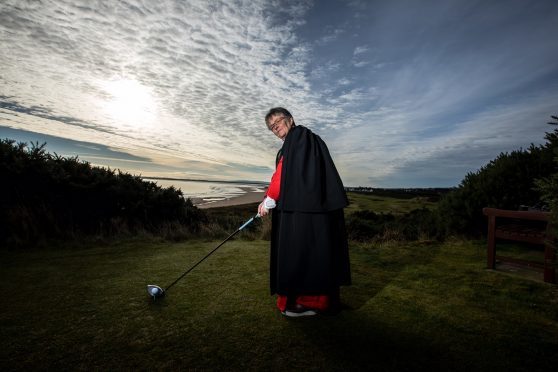 Golfers who find themselves praying for divine intervention on one of the world's great courses have been helped out by a leading minister.
A "Holy Round" of spiritual guidance for every hole at Royal Dornoch has been created by the Rev Susan Brown.
The minister at the 13th-century Dornoch Cathedral, Mrs Brown has been a member of the club for nearly 20 years and is a chaplain to the Queen.
She hopes her words of wisdom will "quieten the minds of golfers and give them a sense of perspective on life".
The thoughts – drawn up during walks around the championship course – are part of the celebrations marking 400 years of golf in the area.
Mrs Brown – who presided over pop queen Madonna's marriage to Guy Ritchie and baptised their son Rocco – joked that the guide was not to be used as an excuse by worshippers to skip her services to fit in an extra round.
Rather, it is designed to "offer an opportunity to help the game be a more complete experience that exercises body, mind and spirit".
"Royal Dornoch is a stunning course and golf, for many people, is a spiritual experience," said the Chapel Royal in Scotland member.
"I went out at different times of the day and walked the course to get a sense of the uniqueness of each hole and then from what I saw, created a simple 'thought' for all 18 holes – plus another for the obligatory 19th which is the club house."
Like the Bible, the text starts "in the beginning" and goes on to encourage people on the first tee to "enjoy the clean score sheet and all the possibilities that lie ahead".
At the awkwardly sloping fourth, they should consider what challenges "pull you from the paths you should be taking" and a bunker at the sixth is a moment to note you live with the consequences of your choices.
"Life is too short not to have times when you push yourself to your limits," she says at the signature 14th and at the final hole it's time to "be grateful for the energy to play and for the company and the scenery", however good or bad the scorecard looks.
Royal Dornoch's general manager, Neil Hampton, said: "The Holy Round is a tremendous resource for the club and really helps to make people stop and think about golf, the wonderful place that is Dornoch and about life in general."