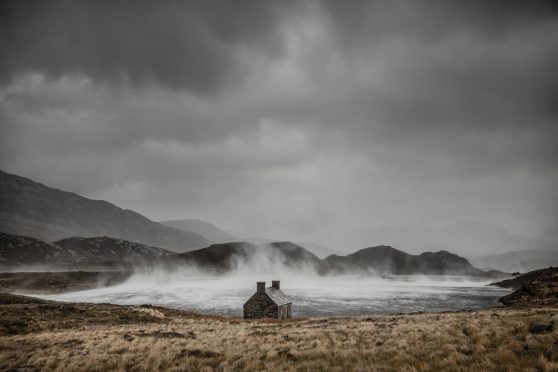 A Highland photographer has picked up an award for his snap of a cottage.
Dougie Cunningham, from Sutherland, was named as the winner of the Classic View category in the 2016 Take a View Landscape Photographer of the Year.
His work – entitled Shelter from the Storm – will now be on display in the London Waterloo station from November 21 and will also be published in a book – Landscape Photographer of the Year: Collection 10.
Elsewhere a photograph which was compared to the tornado in the Wizard of Oz was named as the overall winner.
The snap, by Matthew Cattell, of starlings swirling around Brighton's West Pier beat thousands of other entries to win the £10,000 prize.
The other category winners included a black and white photograph of a walker on a ridge in the Peak District as well as an image of a tracery of a sandbank against calm water.
There were also prizes a railway viaduct in the Yorkshire Dales as well as a shot of urban tower blocks being demolished.
Charlie Waite, who founded the awards, said Mr Cattell's entry was "intriguing."
He said: "The sense of movement is palpable in Matthew's photograph and you really feel what it would have been like to stand beside him.
"The starlings seem to be swirling around the iconic remains of Brighton's West Pier in a manner reminiscent of the tornado in the Wizard of Oz.
"A judicious choice of shutter speed suits both birds and water. An intriguing image."
The awards were held in association with VisitBritain for the third year running.
On this occasion there was a category for photographs which illustrated the diversity of moments and experiences from across the country.
Mark Gillian was named as the winner of this for his snap of a figure standing by Wast Water in the Lake District under the arch of a rainbow.
Robin Johnson, VisitBritain's director of marketing, said the picture was a "fantastic example of the powerful role that imagery plays in inspiring people to travel and experience new destinations, allowing them to literally put themselves in the picture".