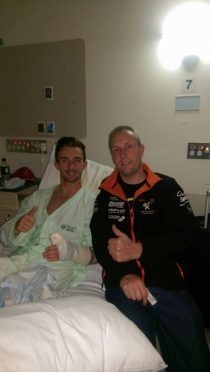 Doctors have said that Argyll motorcycle star John McPhee may have to stay in Australia for five weeks before he is able to fly.
The Oban man is recovering in hospital following a dramatic crash at the weekend.
His parents Alasdair and Maggie of Connel went out to see him on the first available flight.
A statement on the 22-year-old sporting star's website yesterday said: "Following further tests in the St Kilda Alfred Hospital in Melbourne, doctors have now found that both of John's lungs were perforated in the Phillip Island crash and he has lost around 40 per cent of their function at present. He has been told this will heal naturally but it will take some weeks to regain their performance.
"He can exercise gently to help their healing and has a further appointment in two weeks to check progress. At this time, they are now suggesting he will not be able to fly for four to five weeks."
A specialist is to operate on Mr McPhee's thumb. He will miss his last two races of the year and may be excluded from end of season tests to prepare for next year.
The statement continues: "He is staying positive, but is naturally very frustrated that his recovery will take some time."
Mr McPhee's crew chief and close friend Mark Keen described the horrific moment he watched the crash unfold.
He said: "I was absolutely terrified, you can see John was knocked unconscious and being hit by another motorcycle is one of the circumstances that we all fear most in our sport.
"In motorcycle closed circuit racing there is a massive importance on safety, the organization constantly strive to improve this area with increased run off areas, better rider equipment, many race suits now incorporate air bag systems etc.
"But one area that is impossible to control is a fallen rider being hit by another motorcycle and all know it can be fatal, therefore when John was run over it scared the hell out of us all.
"There was a period of between five and 10 minutes when none of us understood the situation, the medical team have to be so careful how they move a rider after a fall.
"There was huge relief when I saw John stretchered from the ambulance to the medical center as I could see he was conscious. At this point I immediately phoned his father to tell him this."