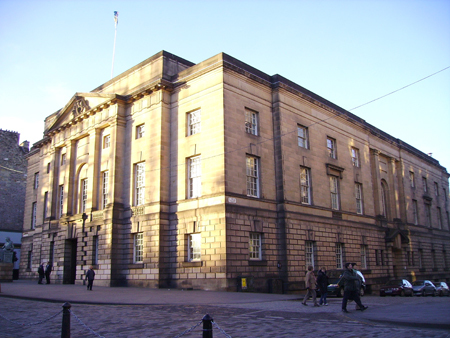 A motorist who was convicted of dangerous driving after falling asleep and causing a collision on a rural road has succeeded in having his sentence quashed.
Kevin Burke was given 200 hours community service after pleading guilty at Tain Sheriff Court in July 2016.
A sheriff sitting at the court heard how Mr Burke fell asleep at the wheel of his car on the A9 at Loth, Helmsdale on November 26, 2014.
The court heard that Mr Burke's vehicle crossed onto the opposite side of the road and collided with a car being driven by Alexander Sutherland.
Mr Sutherland suffered bruising in the collision while his wife Kathleen suffered a fractured collarbone.
The court also heard that Mr Burke suffered the "most drastic injuries" in the collision and had to be air lifted to hospital.
The sheriff – who wasn't named in the judgement – decided to give Mr Burke a 33% discount on the community service order. This was because because Mr Burke had pleaded guilty at an early stage in proceedings.
On Thursday, at the Sheriff Appeal Court in Edinburgh, Sheriff Principal Mhairi Stephen QC and Sheriff John Morris QC decided to quash the sentence given to Mr Burke.
The appeal sheriffs decided to impose a £1,000 fine on Mr Burke and impose a two year driving ban on the first offender.
The appeal sheriffs ruled that even although Mr Burke pleaded guilty to dangerous driving, the circumstances of the offence showed that there were a number of mitigating factors.
They ruled that the fact that Mr Burke pleaded guilty, was a first offender and was the most seriously injured in the collision meant that a new sentence could be imposed upon him.
The sheriffs also stated that the original sentence given to Mr Burke would be more appropriate for an offence "moving towards the upper end of dangerous driving."
In a written judgement issued by the Edinburgh based court on Thursday, Sheriff Principal Stephen wrote: "The court must sentence having regard to the facts and the actual consequences of the dangerous driving which involves an assessment of the injuries suffered.
"Accordingly we consider that the sheriff erred in assessing the appellant's driving as 'moving towards the upper end of dangerous driving.'
"We therefore consider there is force in the argument that the sentence imposed is excessive in the sense that the circumstances do not point to a custodial sentence being the appropriate sentence.
"In these circumstances we propose to quash the community payback order and substitute a financial penalty of £1,500. In keeping with the sheriff's decision to apply a discount of one third, we will reduce that to £1,000."