A spending watchdog has warned that Britain's military bases have deteriorated so badly they could affect the operational readiness of the country's armed forces.
Despite Ministry of Defence plans to sell a quarter of its estate – including Fort George Barracks near Inverness – by 2040, the National Audit Office (NAO) believes it still faces an £8.5billion shortfall for maintaining the rest over the next 30 years.
An NAO report has concluded a contract with a private consortium led by Capita to manage the estate failed to deliver the expected "transformation" in the way it was run, despite a £90million injection of taxpayers' money.
The report highlighted a lack of funding to replace power cables at Portsmouth Naval Base, threatening the ability of the Royal Navy's two new aircraft carriers to operate.
The Army's vehicle support at Ashworth in Gloucestershire lacks the capability to keep vehicles at a high level of readiness.
And the infrastructure at the home of Britain's air-to-air refuelling fleet at RAF Brize Norton had to be shut down for safety reasons and replaced with a temporary facility because of poor maintenance.
Defence Secretary Sir Michael Fallon confirmed a week ago that eight Scottish military sites were among almost 60 in the UK facing closure.
Kinloss Barracks in Moray will, however, remain open and may even be expanded.
The MoD spends £4.8billion on its estate.
Financial pressures have meant that since 2009, it has been forced to abandon its programme of improvement works, reducing service levels to those needed to keep the estate "safe and legal", resulting in a "general deterioration" in the overall condition.
The NAO report also states that "there is a significant risk that the poor condition of the estate will affect the department's ability to provide the defence capability needed".
As the estate's condition deteriorates, the report said, "some parts may wholly or partially close. This will exacerbate other risks and could reduce operational readiness".
In 2014, Capita was awarded a 10-year contract to become the MoD's "strategic business partner" running the defence infrastructure organisation, despite the fact that at the time it was struggling with the management of the Army's recruitment programme.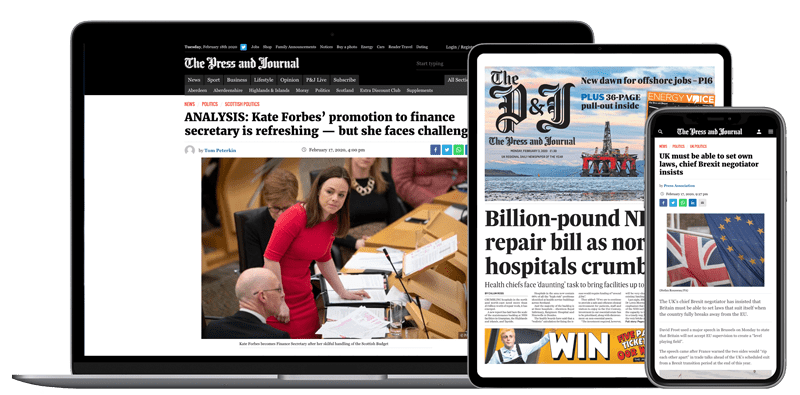 Help support quality local journalism … become a digital subscriber to The Press and Journal
For as little as £5.99 a month you can access all of our content, including Premium articles.
Subscribe