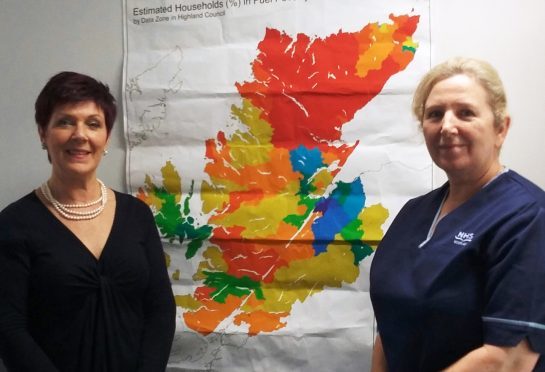 Sutherland patients leaving hospital after treatment are to be offered help to keep their homes warm thanks to an NHS Highland pilot.
With Sutherland having the highest fuel poverty levels in the UK, patients at Migdale Hospital in Bonar Bridge and Lawson Memorial Hospital in Golspie will be asked by NHS staff if they would like professional cost-effective advice about how to keep their homes warm this winter.
In the first ever move of its type, an information and data-sharing/ governance agreement between NHS Highland and the Energy Saving Trust was signed last month that will enable the board's staff to input patients' details on to the advice service Home Energy Scotland (HES) website.
Debbie Sutherland, senior charge nurse at the Migdale hospital is in no doubt of the health benefits, as living in a cold, damp home can adversely affect people's physical and mental health.
She said: "Our staff are keen to help patients keep warm and dry once they have left our care.
"As part of our hospital discharge process, we will offer all patients who are being discharged home a referral to Home Energy Scotland. To enable this, staff at both hospitals have been trained in using the national HES online referral portal."
Sutherland District Partnership's fuel poverty task group chairwoman, Councillor Deirdre Mackay, said: "Too many people in Sutherland have their health and happiness undermined by fuel poverty. We know that struggling to pay energy bills and keep warm at home affects not only older people, but many families with young children also struggle to make ends meet.
"Government home energy schemes are designed for urban towns and villages which can provide economies of scale. This means that vast swathes of Sutherland, people living in more isolated areas, are deprived of opportunities to have their homes improved and receive advice and support."
Mrs Mackay said that fuel poverty was a key issue across Sutherland in particular – but said the new system could be rolled out across the Highlands and the rest of Scotland.
She added: "The best ideas are often the simplest and the idea of working with our two hospitals ensures that we are reaching our most vulnerable people and those who stand to gain most.
"We are looking forward to rolling the initiative out to GP practices as this will greatly extend the numbers of families who can benefit.