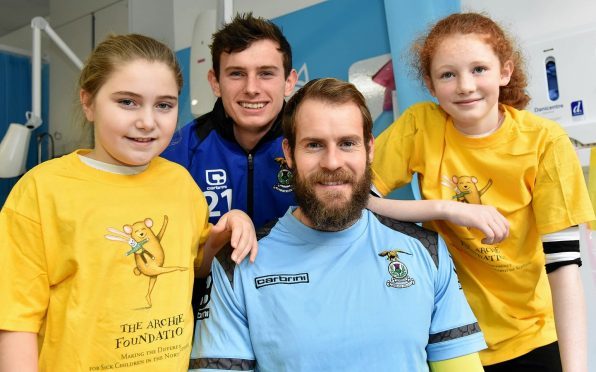 The Scottish premiership's finest in the north hope to score for children's charity ARCHIE Highland this winter.
Star players from Inverness Caledonian Thistle are downing their razors and backing the charity's Beards for Bairns fundraising campaign.
Members of the Highland capital squad, Welsh international Owain Fon Williams, and striker Ali Sutherland have agreed not to shave for more than a month from Christmas Day, until Burns Night, January 25.
They are encouraging other men from across the Highlands to join them and also take up the Beards for Bairns challenge.
Both players took some time out to visit the new state of the art Children's Unit at Raigmore Hospital in Inverness yesterday.
As well as meeting some of the youngsters in the unit they also officially launched the Beards for Bairns campaign.
Goalkeeper Owain Fon-Williams, who himself spent three months in a Welsh children's unit and Alder Hey Children's Hospital in Liverpool, said the unit was hugely important for the Highlands.
He said: "We have all either got kids or know kids who need to use the unit or may need to at some point so having such a great facility here thanks to ARCHIE Highland is just fantastic.
"For myself having to spend such a long time in hospital I know just how important somewhere like this is for children. It's thanks to the great care I received at hospital that I was able to carry on with sport and I was able to be a footballer."
Teammate Ali Sutherland said: "It's a very deserving cause and it's local.
"It's very welcoming and nice and bright for all the children and families who visit the unit. We are delighted to be able to support Beards for Bairns."
Ross County Football Club is also supporting the campaign.
It's the sixth year Beard for Bairns has run, and the ARCHIE Highland team are hoping to make 2016 a record fundraising year.
All the money raised will be used to support sick children and their families across the Highlands.