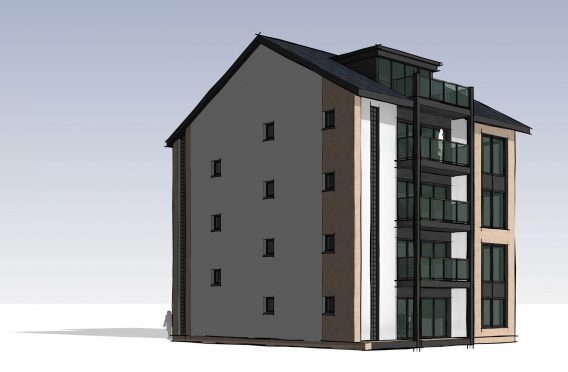 Plans for dozens of multi-storey flats on the southwest approach to Inverness will create an "atrocious" gateway to the Highland capital, according to a city councillor.
Members of the south planning committee yesterday agreed revised proposals for 48 apartments at Torvean Caravan Park near the Caledonian Canal despite several councillors' concerns about design.
The park's owners have permission to build five blocks, near the Caledonian Canal and on the site of a redundant filling station on the adjacent A82 Inverness-Fort William road. Two will include ground-floor convenience stores.
It initially hoped to create 81 apartments.
A lengthy debate focussed on complaints from several councillors that the design was "bland".
City member Richard Laird was concerned that a 25% "affordable" quota was bunched into one area of the development.
Local Inverness West ward councillor Graham Ross complained that there were "no distinctive features whatsoever" in a development comprising four-and-a-half storey blocks that would be "completely out of character in a semi rural location."
He warned that the flats would dominate the skyline of a city gateway where no existing homes are more than three storeys.
Fellow city councillor Jim Crawford described the design as "shocking", comparing the architecture with that of Lego.
"It would be an attrocious entrance to Inverness," he said.
Badenoch and Strathspey member Bill Lobban agreed with the elevation aspect but otherwise felt it was an "innovative" design.
Speaking on behalf of the architects, Neil Gray of Edinburgh-based planners Rapleys said: "This is a much improved layout and proposal than was previously granted by the last administration's planning committee – and design is a very subjective matter.
"There were comments for and comments against. We've already undertaken to look at the elevation they asked to be changed."
Construction work wilol be some time away because the caravan park needs to be relocated first.
Work is expected to be phased over the next two or three years.
The homes will be a mix of one and two-bedroom properties, with penthouses on the top deck.
The site had previously been granted planning permission for 81 flats in six blocks but the plans were dropped after the site changed hands.