Residents of an Argyll travellers' site claim they are facing discrimination in a row over plans to put an oil depot close to their homes.
Oilfast Ltd is seeking planning permission from Argyll and Bute Council for two portable buildings, four tanks and fencing in the yard at Oban Airport – right next to Ledaig Travelling Persons Site.
The depot would share its access road with the official travellers' site, which is also on the route of the Oban to Fort William cycle track.
But residents of the site, which has been there for years, say they are not being afforded the same respect as people who live in conventional homes.
And their housing association landlord believes they are actually more at risk than "bricks and mortar" tenants if there was any sort of explosion, having less protection in caravans and chalets.
Michelle Lloyd, programme manager for the Minority of Ethnic Carers of People Project, said: "Some of the families have lived at the Ledaig site for many years. An oil depot would have quite a profound impact on their quality of life."
A total of 22 objections have lodged to the proposal at the airport, which is owned by the council.
In a letter signed by eight of the Ledaig residents and a number of people from Oban and other surrounding villages, they say: "The residents at Ledaig Travelling Persons' Site have been discriminated against as they do not appear to have been given the same respect/value as other residential developments in Argyll.
"We have real concerns that the council are planning to permit an oil depot area so close to the residential development."
However Stephen Anderson, managing director of Oilfast, said it is not uncommon to have a depot near residential areas.
Elizabeth Brown, a resident of the Ledaig site, said: "It is going to be too dangerous having five or six lorries going in and out every day. It is also noisy enough with the airport, now it's going to be 20 times busier. There is bad enough traffic in the morning as it is without having lorries where children walk to school.
"It is a danger having an oil depot so close, we have got gas canisters sitting outside the caravans."
Brendan O'Hara, MP for Argyll and Bute, said in an official objection: "I am of the view that the proposal presents a considerable risk to the Travelling Persons Site at Ledaig, both in terms of actual hazard but also to the well-being of those on the site."
Julie McKenzie, local councillor, added: "When I went out to see it I was absolutely horrified that the council could even be contemplating doing anything like that so close to a residential area."
Alastair MacGregor, chief executive of Argyll Community Housing Association (Acha) which operates the site, said the storage tanks "could not be any closer to our tenants' homes".
He continued: "Our tenants are a distinct travelling community and they stay in caravans and a chalet. Our tenants' homes on this site are not bricks and mortar they are aluminium based, wooden frame caravans and in the event of any incident involving explosion then there will be less physical protection than in a traditional home."
Mr Anderson of Oilfast said: "Oilfast have opened six depots so far throughout Scotland. In all these areas we have created jobs and brought fuel prices down through much needed competition.
"We felt that we could bring these same benefits to the Argyll and Bute area and so we have been actively looking for commercial ground in and around the Oban area for over 18 months with no success until we came across this site near Oban airport. Argyll and Bute Council advertised the site and invited offers to lease it. We promptly made our offer and were told we were successful in June 2016.
"We submitted our planning application a couple of months ago and didn't expect to receive objections to this as having an oil depot near a residential site is not unusual. Gleaner Oils in Oban are next to a residential area for example and some of Oilfast's other depots including Motherwell and Crieff are also right next to local houses."
A council spokesman said: "The application will be considered in exactly the same way as any other."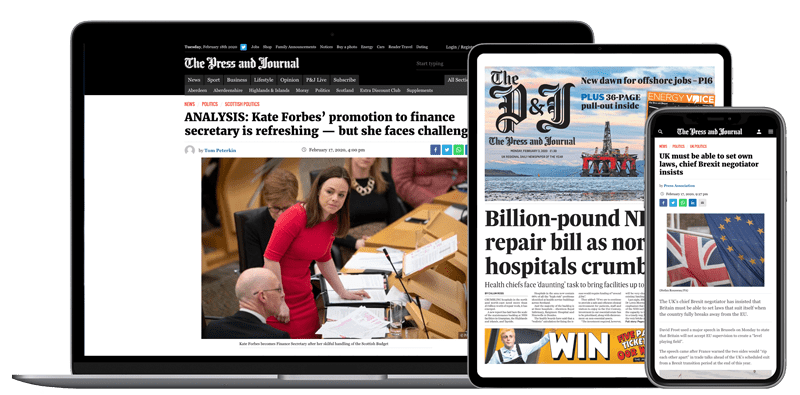 Help support quality local journalism … become a digital subscriber to The Press and Journal
For as little as £5.99 a month you can access all of our content, including Premium articles.
Subscribe