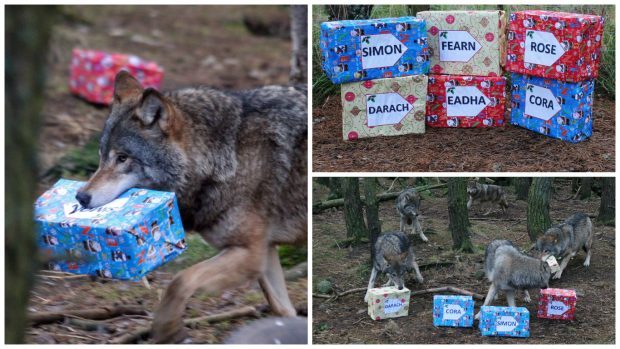 A puppy is for life, not just for Christmas.
But that doesn't mean that young wolf cubs should miss out when it comes to receiving presents.
The six adorable pups at RZSS Highland Wildlife Park at Kincraig near Kingussie have received a special gift to celebrate their first Christmas there.
They were given a personalised enrichment gift from keepers.
Since their birth on June 3 the pups have settled in well to their new home in Wolf Wood, alongside their mother Ruby and father Jax. Now six months old, the pups have grown playful with boisterous personalities and, like most young pups, are becoming more adventurous.
Each wolf cub celebrated with their own giant present filled with some of their favourite tasty treats.
The gifts were individually labelled for each of the pups: Fearn, Eadha, Rose, Cora, Darach and Simon.
Douglas Richardson, Head of Living Collections at RZSS Highland Wildlife Park, said: "The pups have been doing really well at the park since their birth in June. Ruby has made an excellent first time mother and it's great to see the cubs growing and developing their own personalities. As Ruby was also born here, it is very satisfying to watch another generation of RZSS Highland Wildlife Park wolves growing up."
The wolves at RZSS Highland Wildlife Park are European wolves (Canis lupus lupus) and are found throughout Scandinavia, pockets of Southern and Eastern Europe and Western Russia.
The European grey wolf used to be found throughout most of the northern hemisphere; however, today it has a more restricted distribution.
Previously the grey wolf has suffered many years of persecution due to predation on livestock and the mistaken belief that the species is dangerous to humans which reduced the population.
However, in recent years, legal protection, a better understanding of wolf behaviour and land use change has helped some populations to recover.
Speaking about the wolves earlier this month Mr Richardson said: "They are quite boisterous and love playing with their siblings and exploring their 4,500sq m enclosure. It is wonderful to have a full pack of wolves at the park again. Once the wolf pups are older, and following the birth of the next one or two litters, they will move on to other zoological collections to augment existing packs or help create new ones, mimicking the natural dispersal process in the wild."