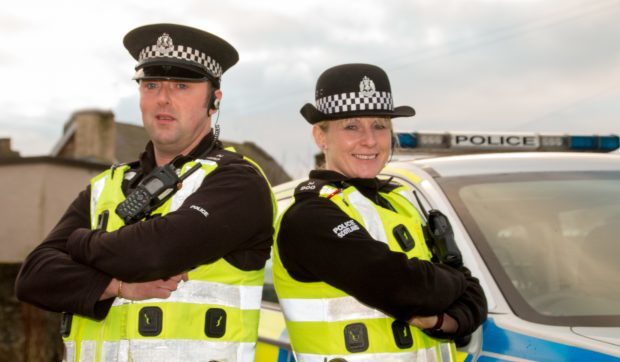 It is the Special Branch of the family tree.
Brother and sister Tracy Murray and Paul Whitehead are keeping it in the family in Golspie, Sutherland.
The PC siblings are now based in the same police station in the same town they went to school in.
The pair are believed to be the only brother and sister police officers in the same station in the North.
History was made when Tracy switched from Inverness to Golspie a couple of weeks ago.
Paul has been stationed in his home village for the past three years.
The pair live a mile apart at opposite ends of Golspie.
Mother-of-three Tracy, 44, joined Police Scotland just three years ago.
She had grown up in Helmsdale and went – like her brother – to Golspie High School.
After different jobs, Tracy first felt the call of the thin blue line when Paul joined the police in 2008.
"It was when I went to his passing out parade that I realised I wished it was me too. I was inspired," said Tracy.
"My brother said 'why don't you join as a special constable?'
"So I did at Dornoch. It was great being a special. It prepared me for the job. I used to work every second weekend and log up 180 hours a year."
Then three years ago Tracy applied and joined Police Scotland as a full time officer.
She was posted to Inverness but commuted from Golspie.
Tracy added: "When I told Paul I was moving to Golspie, he said it would be a wise move as it would cut down on my commuting. Also I feel I've come home.
"We have a big area to cover and I love the scenery. It is a different style of policing. You have to think of the bigger picture – that your next nearest unit may be far away."
Paul, 36, used to work as a gamekeeper between Kildonan and Kinbrace. At the time he was also a volunteer coastguard.
"I had wanted to join the police when I was 21, but I stuck with gamekeeping then," said Paul.
"A couple of my friends later joined the police and I was quite envious of them.
"So when I was 28, I thought life's too short and joined up because it is something I really wanted to do. It's a good career and I helped highlight to Tracy that it was quite a commitment.
"Working as a special gave her a good grounding and understanding of the full time role.
"I'm glad she is here – it's better for her. I was in Alness for five years and Golspie is a very busy station covering a vast area.
"At shift handover I don't think of Tracy as my sister but as a professional colleague. She's very keen and enthusiastic and glad she's part of the team."