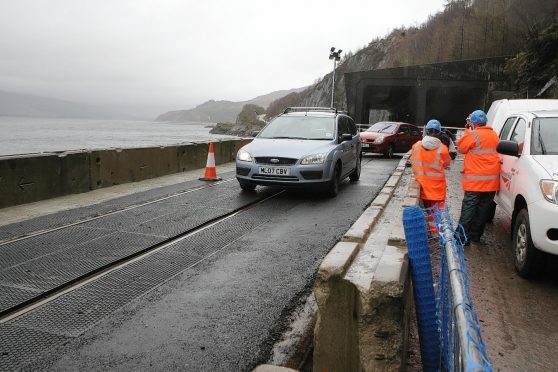 The agency responsible for running the UK's railways has held informal talks about the possibility of turning a scenic Highland line into a light railway.
But Network Rail warned the proposal would raise a number of safety issues – as well as needing "substantial" money behind it.
The Press and Journal has previously revealed that Highland Council are giving serious consideration to proposals to change the railway in order to create a tramway system at Stromeferry.
The system would allow the road and rail to share a surface and prevent closures during the serious rockfalls which have regularly closed the vital route.
The radical plan has been devised by Frank Roach, manager of north transport partnership Hitrans.
He suggested that rolling stock which has been taken out of service on the London Underground would be ideally suited if the new arrangement was taken forward.
Highland Council have deemed the proposal worthy of serious consideration – while local community leaders also said it was worth exploring.
Network Rail did not dismiss the idea – but warned it would be fraught with challenges.
A spokesman said: "We have informally discussed possible options for Stromeferry with Hitrans but currently have no plans to introduce light rail on the Kyle line.
"Any change in use would raise a number of safety and regulatory considerations and require substantial financial investment."
The Office of Rail and Road, which is responsible for safety regulation on the railways, and ScotRail did not respond when asked for their thoughts on the idea.
Helen Murchison, long-standing chairwoman of Lochcarron Community Council, said the idea was worth further examination.
She said: "Let's face it, anything is worth exploring if it helps solve the problem."
The A890 is a key route providing a link to Kyle and Skye from the eastern Highlands.
But a section at Stromeferry on the shores of Loch Carron is susceptible to major rockfalls and Highland Council has been seeking an alternative since the road was closed for four months after a landslip in 2011, leaving motorists with a 140-mile diversion.
Mr Roach from Hitrans suggested that the tram suggestion could create a tourist attraction as well as helping solve the issues with the road.
Colin Howell, the council's head of infrastructure, said it is "definitely worth putting the effort in to see if it is viable".