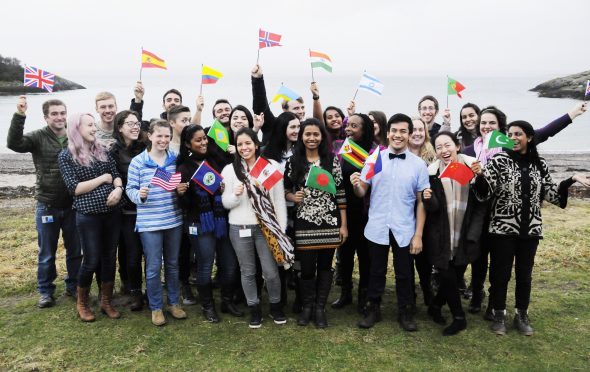 A group of students from every corner of the globe are studying in the Highlands and have caught the eye of the aquaculture industry.
The eclectic ensemble of 25 individuals from 19 different countries are on a prestigious Masters Degree course at the Scottish Association for Marine Science (Sams UHI) in Oban.
They are the second group to join the Erasmus Mundus Joint Masters Degree (EMJMD) in Aquaculture, Environment and Society, which is awarded jointly by the University of the Highlands and Islands and University of Crete.
The group, all of whom are based in and around Oban for an initial six months, hail from such diverse locations as New Zealand, Jamaica, Peru, Brazil, Pakistan, China, Colombia and the USA.
As part of the two-year ACES programme, they will continue their studies in Crete next February and, in autumn 2017, will move on to Nantes before spending the final six months of their Masters at one of the three partner organisations.
The academic course will cover industry-relevant aspects of aquaculture, such as environmental issues, governance, technology, life cycles and feed production.
Course leader Dr Elizabeth Cottier-Cook, a senior researcher at Sams, said: "The programme provides fully-funded scholarships for EU and non-EU students in a bid to attract the very best aquaculture students from around the world.
"It also allows the students to share their experiences of that industry from nation to nation. This helps us build on the academic elements of the course and encourages a curiosity about links between academia and industry."
It also invites guest lecturers and scholars from the United Nations, as well as research institutes in Tasmania, Israel and the USA.
Marine Harvest sponsors a scholarship for one EU-based student, who will go on to complete their studies with the company.
The company's Business Support Manager, Steve Bracken, said: "Courses such as this are an important vector to bridge the gap between education, research and development, and applied industry techniques and knowledge.
"Aquaculture-based academia within the UK is growing and the research undertaken at SAMS, Crete and Nantes is industry-relevant.
"Students educated there learn and understand theories, techniques and skills that can bring a significant and sustainable growth to Europe's salmon farming industry."
Judith Vajk of Caledonian Oysters hosted the students at her shellfish farm near Oban.
And she said: "The ACES programme stands out for me because of its international perspective and its close links with industry. These students could one day be in high-level research and policy positions, so having a strong knowledge of industry so early in their careers can only be a benefit to everyone."
One of the students, Yulia Buhlak from Ukraine, added: "I am extremely passionate about aquaculture; one of my goals is to provide the population with good quality and sustainable fish protein.
"I was searching for a Masters programme with hands-on experience and teachers who could provide state-of-the-art knowledge. This is what I found on the ACES programme, but I also got even more.
"I am enjoying beautiful Scotland, meeting amazing international friends and learning from enthusiastic and helpful teachers."