Storm Barbara's warm-up act hit the Highlands and islands yesterday as transport operators and councils braced themselves for today's main act.
More than 100 schools were closed across the Highlands today as the bad weather moved in on the north of Scotland.
Motorists travelling on the A9 were delayed following a two-car crash amid blizzards north of Slochd Summit, and Traffic Scotland has warned of potential closures today to the Kessock, Dornoch and Cromarty bridges due to high winds.
All CalMac ferry routes were subject to disruption yesterday and all crossings are cancelled today, and will be subject to disruption tomorrow. All bus services in the Western Isles have also been cancelled, and tomorrow's travel is also in doubt.
Several NorthLink ferry crossings were delayed yesterday and there will be several cancellations today, including the 4.45pm and 7pm Pentland Firth crossings, the 7pm Aberdeen to Lerwick sailing and 11.45pm Kirkwall to Aberdeen sailing.
Yesterday, Ullapool and Gairloch secondary schools, as was Stratherrick Primary School, were closed due to the poor weather.
Highland Scotbus has advised there will be no school transport today on the Black Isle, and Stagecoach has informed the council there will be no school transport on Skye.
Inverness BID also announced that the Inverness farmers' market outside the Eastgate shopping centre will not go ahead on Christmas Eve.
Amber "be prepared" wind warnings have been issued by the Met Office for northern parts of the Highlands and Western Isles and will be valid from noon today until midnight, with yellow "be aware" warnings across the region in place from 7am until midnight.
Yesterday wind gusts reached a maximum of 62mph in Sule Skerry in Orkney, and hit 61mph in both the Fair Isle and Sella Ness in Shetland.
Winds will strengthen today with gusts of up to 90mph expected in areas around the north coast of the mainland and Western Isles. Inverness and the surrounding area will still be hit with gusts of up to 70mph.
Met Office spokesman Grahame Madge said: "It goes without saying that there is potential for significant disruption with power supplies, travel and bridges, as well as disruption with ferries for people travelling to and from the Western Isles."
Mr Madge added that wind speeds will likely fall on Christmas Eve but, on Christmas Day, another low pressure system will bring "significant gusts."
Road maintenance operator Bear Scotland will have more than 100 workers on standby at depots across the North West and North East units to deal with issues on trunk roads caused by high winds.
Sandbags and water pumps are available to deal with any flooding issues and chainsaw operatives are also on standby to deal with fallen trees or branches.
As well as travel, refuse and recycling collections in the Western Isles have been cancelled today and will be rescheduled. Bin collections in Stornoway will now be made next Tuesday and the recycling collection in North Lochs will instead be collected next Friday.
All sport and leisure facilities in the Western Isles have been closed, and anyone looking for medical advice has been asked to avoid unnecessary travel and minimise risk during the weather and contact NHS 24 on 111.
Construction workers have also been asked to secure scaffolding and any loose items on building sites.
Scottish Fire and Rescue Service has also reminded members of the public to take extra care if using candles during any power cuts which occur due to winter storms.
SSE is on alert and has put in place its contingency plans to deal with any damage the storm may cause to the electricity network.
Yesterday during First Ministers question time in Scottish Parliament, Highlands and Islands MSP, David Stewart, asked Nicola Sturgeon if she was confident that the transport system is prepared for an reslient enough for the storm.
Ms Sturgeon assured MSPs that the government had spoken with Transport Scotland and other agencies and she was satisfied that contingencies were in place to deal with the storm.
A spokesman for Loganair said previously that they have re-timed 27 flights to operate earlier on this morning, and have cancelled 10 other services.
The UK Coastguard has also warned people to consider whether they should go to sea and if they are on the coastline, think twice about going outside.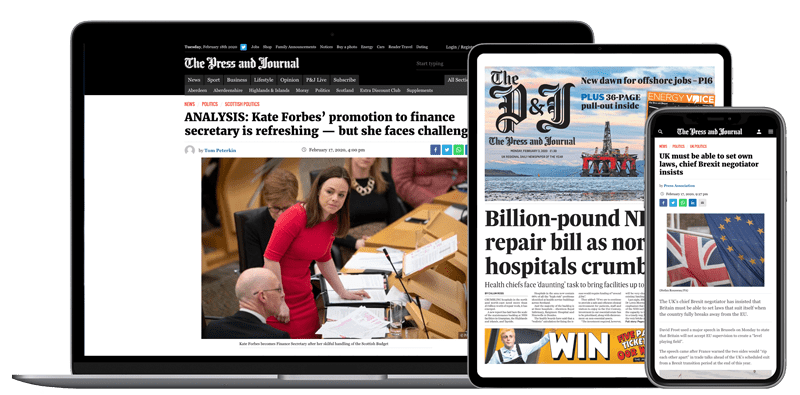 Help support quality local journalism … become a digital subscriber to The Press and Journal
For as little as £5.99 a month you can access all of our content, including Premium articles.
Subscribe