A high profile police operation took place in Oban yesterday where members of the public were stopped and asked about missing dog walker Chrystalla Dean.
Officers tried to jog the memory of any dog walkers who may have seen Ms Dean or her two pets last week.
Fears are growing for the safety of the 51-year-old, who has been missing for a week despite major searches.
Police dive teams, the helicopter, mountain rescue teams, coastguard and lifeboat, as well as many local volunteers, have been involved in the search.
Officers were out along Oban Esplanade yesterday as Storm Barbara hit the town.
Sergeant Iain MacNicol said: "It was quite wild but we managed to speak to quite a lot of people, we got just over 100 people.
"Unfortunately we had no positive sightings but we have managed to raise awareness.
"But nothing positive out of it. There was a lot more people about than I thought, we spoke to people heading towards Ganavan walking dogs, it was busier than I thought it would be. We had the mobile police office.
"We had officers at the war memorial and at Dunollie Point stopping traffic heading towards Ganavan and back into the town."
Sergeant MacNicol and four officers were on the Esplanade close to the Corran Halls between 7.15am and 11am speaking to as many people as possible.
Officers were looking to speak to anyone who remembered seeing Chrystalla in Oban on either Thursday, December 15 or Friday, December 16.
They were asking people if they saw Ms Dean with her two dogs. The dogs are both collie/lurcher crosses, one with a grey and black wiry coat and the other with a brown and white short coat. The dogs may have been with her or they may have been seen on their own.
She was last seen by her daughter last Thursday at about 8pm at her home in Longsdale Crescent.
The following day her daughter returned and when her mother failed to come home that evening she called police and reported her missing.
Ms Dean normally walks her dogs in a wooded area known locally as The Witches.
It is believed she may have taken one of her dogs for a walk there but the pet arrived home without her.
She is about 5ft 1in tall, of slim build with curly hair, which is dyed blue. She may have been wearing a red top, jeans and boots.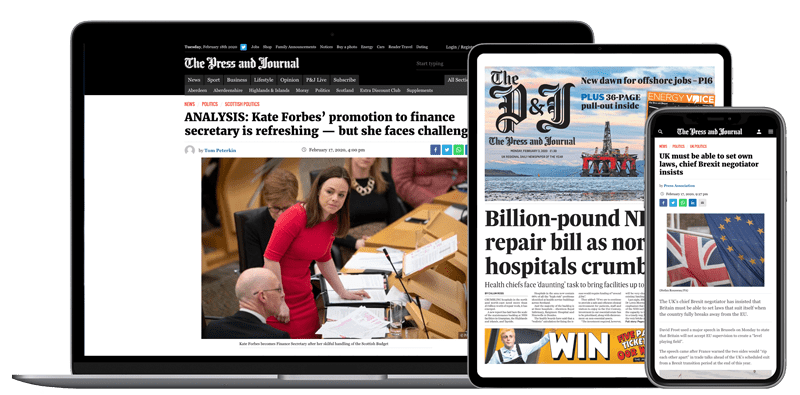 Help support quality local journalism … become a digital subscriber to The Press and Journal
For as little as £5.99 a month you can access all of our content, including Premium articles.
Subscribe