A woman in her 60s accused of embezzling more than £33,000 was too traumatised to come to court because she and her husband had been the victims of a chainsaw attack.
Last month, 48-year-old James MacDonald was jailed for 12 years for the admitted attempted murder of John MacPherson, 74, by almost cutting off his arm with the power-saw.
He also pleaded guilty to assaulting his wife Flora, 64, with the saw to her severe injury, permanent disfigurement and danger of her life in the couple's home in Glenkingie Street, Caol.
Yesterday, Mrs MacPherson was facing serious financial charges at Fort William Sheriff Court.
She was accused that between April 2002 and July 2004 at home and elsewhere, while acting as an'agent' for 69-year-old Archie Nicol she embezzled £5,963.
A second charge claimed that on June 14, 2005, at the Bank of Scotland in Fort William she pretended to staff she had authority to open a current account in the name of elderly Mr Nicol, presented to them an application form which purported to be filled in and signed by him, without the authroity to do it.
The charge went on to say MacPherson did this to induce bank staff to open a current account in his name registered to her own home address "and did thus obtain access to the current account along with the use of cards and cheque books relating to that account and all funds paid into that account,all by fraud."
And for almost eight years, between August, 2005 and May, 2013 at her home and elsewhere in Scotland she is accused of stealing £27,260.
MacPherson was due to appear in court and continue her plea of not guilty to the charges.
But her lawyer Gerry Sweeney told Sheriff Bill Taylor: "As you can see,she is not with us today.
"She is the subject of a psychiatric referral by her GP. She and her husband were the victims of a very serious and brutal attack this summer and there are ongoing issues."
The case was continued to trial in May.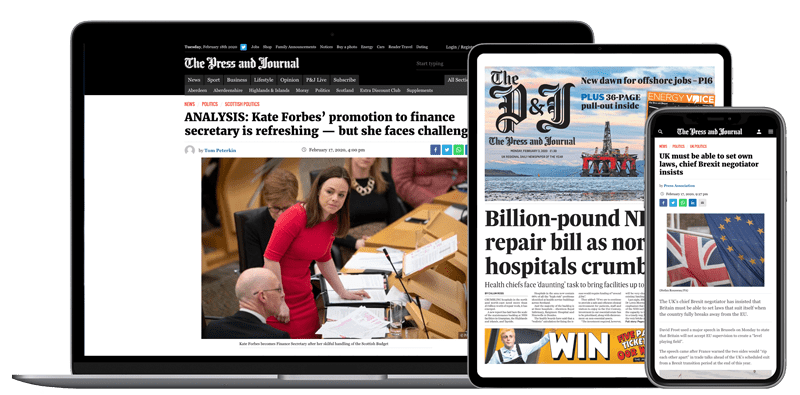 Help support quality local journalism … become a digital subscriber to The Press and Journal
For as little as £5.99 a month you can access all of our content, including Premium articles.
Subscribe