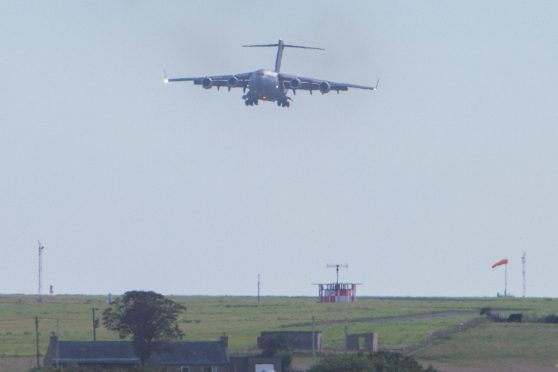 Ministers are expected to outline their views on the controversial transportation of radioactive material from a Highlands airport today.
The Scottish Government is due to respond to a number of questions from north MSP John Finnie about the transfer of highly-enriched uranium from Dounreay, near Thurso, to the US via Wick John O'Groats Airport in 2016.
Former Prime Minister David Cameron made the deal with the US government to transport the radioactive material – and further such flights are expected.
Mr Cameron, who resigned last summer, said the substance was exchanged in return for a different type of uranium, which is used to diagnose cancer in the UK.
But Scottish Green MSP Mr Finnie has raised concerns that the runway at the Wick John O'Groats Airport is not long enough for the large aircraft involved.
The airport is managed by Highlands and Islands Airports, a public corporation owned by the Scottish Government.
The north MSP has also queried the costs involved of policing the transfers. Answers to both issues are due from ministers today.
His party colleague, environment spokesman Mark Ruskell, said: "Subsidising Wick Airport to encourage international trade in nuclear waste is misguided and costly.
"We await details from the Scottish Government with interest as to how much public money has been spent on this."
A spokeswoman for the Scottish Government said: "The nuclear materials at Dounreay are under the ownership and control of the UK Government, and the regulation of movements is a reserved matter.
"The Scottish Government has been kept informed by the UK Government of their plans for movements of nuclear materials from Dounreay, as these have developed.
"We have sought and received reassurance over the safety and security of any movements. Given the recent public concerns on particular matters relating to Wick Airport, we shall seek further reassurance on the safety and security of any future movements."
The Dounreay site is currently in the process of being decommissioned. Other radioactive materials are being moved elsewhere, including by rail to Sellafield in Cumbria.