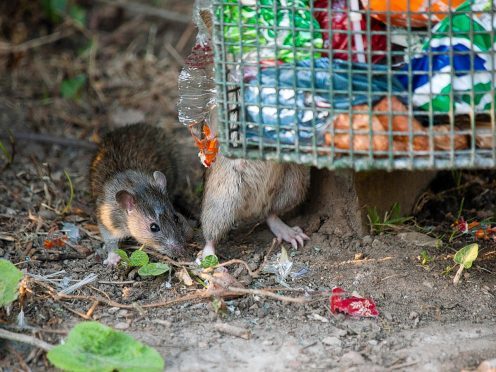 Crisis talks took place yesterday in Oban after rats were spotted in a Highland housing estate following the controversial introduction of three-weekly bin collections.
Soroba in Oban has been blighted by overflowing bins and rubbish on the pavements since Argyll and Bute Council implemented the policy late last year.
And Colonsay Terrace resident Sheila Brown was horrified last week when her dog killed a rat outside the flats.
She said: "We need to get this sorted out before somebody gets ill. Quite a lot of people have said they have seen them about."
Mrs Brown wrote to the council to complain and as a result yesterday's meeting was called with councillors, council officers, representatives from landlord Argyll Community Housing Association (Acha) and Soroba residents in attendance.
As a result the council has agreed to put two extra 1,100 litre waste bins at Soroba and its wardens will investigate the rat problem.
Extra recycling facilities for glass will also be put in and Acha has come up with a proposal to store waste in former bin cellars which will create space.
Chairing the meeting, Councillor Mary Jean Devon said: "There are major concerns in Soroba since the three-weekly bin collection.
"We are here to find a way forward. There are issues that have to be addressed. The council didn't decide last February to do this to annoy everyone.
"Every local authority has guidelines from the Scottish Government who wish to reduce the landfill we use."
Acha chief executive Alistair MacGregor said: "There are 29 former bin cellars in tenements. Acha is willing to look at bringing these back into use to store waste and rubbish."
He said that if the local area committee agreed to the idea and £4,000 investment when it meets on March 6, the areas could be cleared and put back to use by the end of April.
Nicola Wilson of Soroba Residents Association, said: "I think it is a good idea. If people will recycle. They will be more likely to recycle if the bins were in the close. It would take the bins away from the pavements and it would stop the recycling getting contaminated by the waste. It is worth trying."
Previously at Soroba a block of eight flats would share four large grey waste bins. But since the fortnightly collections have been reduced to three weekly, one of the grey bins from each block has been replaced by a blue recycling bin.
Andy Harper of the residents association said overcrowding was a big issue. He said: "There is another issue with people from other areas driving up and tipping their stuff in Soroba bins."
Speaking after the meeting, Councillor Rodddy McCuish, chairman of Oban Lorn and the Isles area committee, said: "We had a very positive discussion, with the key improvement being that we will, subject to the approval of Acha's local committee on March 6, be providing additional 240 litre recycling bins to be stored in close areas.
"Residents will have keys to these areas to prevent non-residents from using these bins. With more recycling bins available, we should see space saved in the general waste bins.
"We'll also be putting two 1100 litre general waste bins in, on a short-term basis, to help residents get used to the new model. We'll look at putting a bottle bank in as well, further increasing the recycling options, as well as a mini recycling centre for card and plastics.
"Our wardens will also be in Soroba to investigate pest reports. We appreciate that people are concerned, which is why we are getting on the front foot and looking into this. If anyone has any concerns at all they should call on 01546 605514. A good way of preventing pests is to make sure waste is bagged and that the lids of bins are firmly closed."