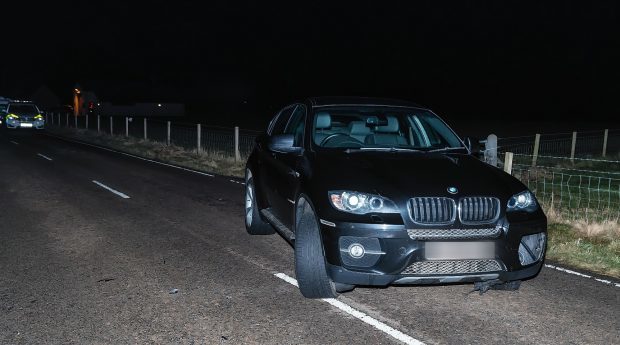 A man has died after being hit by a car while walking along a Caithness road.
The 34-year-old, named locally as Tim Humphreys, was heading home when the accident happened near the Seaview Hotel in John O'Groats.
It was the first of two serious accidents involving a pedestrian and car over the weekend.
A 36-year-old man is in a serious condition after being knocked down in a suspected hit-and-run in Inverness early yesterday.
Last night, father-of-four Mr Humphreys was described as a "family man with a big heart".
Police and paramedics were called to the A836 John O'Groats to Castletown road near the junction with the A99 Wick road late on Friday night. The accident involved a black BMW X6.
The tight-knit community rallied round to support Mr Humphreys's devastated family over the weekend, launching a fundraising appeal to help cover funeral costs.
Last night the total was already at £5,000.
On the web page, the organisers of the appeal wrote: "On Friday, February 17 Tim Humphreys tragically and unexpectedly lost his life.
"He was a family man with a big heart who loved his family very much."
Landward Caithness councillor Willie Mackay said: "It's absolutely devastating .
"It's such a close-knit community up there and it will be a terrible shock for everyone to come to terms with.
"They really do all get on well and these tragic circumstances will be hard for them to take."
Fellow local councillor Gillian Coghill said: "It's tragic for a young man like that to have lost his life.
"It will also have been heartbreaking for the person who hit him.
"It's so sad for somebody as young as that to have lost their lives this way."
Police said the accident happened at about 11.40pm.
The road was closed until 7.45am the following day to allow specialist road policing officers to carry out a full collision investigation to take place.
A police spokesman said: "As part of ongoing inquiries, officers are keen to speak to anyone who may have seen anyone walking on or near the road between the A99 junction and Newton in the hour leading up to the collision."
Meanwhile in Inverness, a 36-year-old man was seriously injured in an alleged hit and run.
The incident happened on the A82 Inverness to Fort William road at Friars Bridge near the city centre at about 3.30am.
Police confirmed that a black Volkswagen Passat estate was involved.
It is understood that the car did not stop at the scene but was later traced by police.
Police last night could not confirm if this was the case.
A spokesman said: "As a result of the collision between a black Volkswagen Passat estate car and a pedestrian, the 36-year-old male pedestrian was taken to Raigmore Hospital, Inverness with serious injuries.
"The road was closed for a period of time to allow for collision investigation work to be carried out."
Anyone with information about either crash should call police on 101.