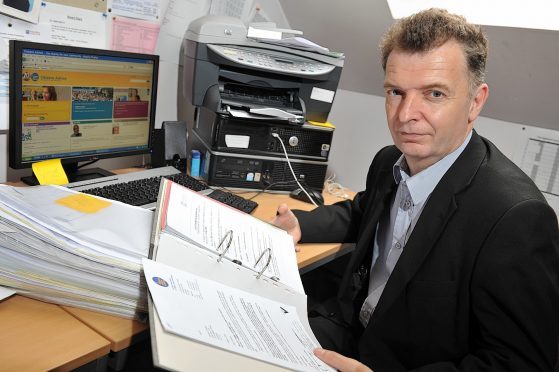 Jobs will go and help for vulnerable people withdrawn as the result of a cut to council funding for citizens advice bureaux in the north.
Highland councillors yesterday agreed a compromise that avoided an even deeper cut in the annual grant.
The reduction, to help balance the council's books, will directly affect the agency's specific services for mental health and midwifery.
Council finance chiefs had sought a termination of funding for one or both projects from next month. The two projects cost the council £117,000 in 2016-17.
But, after a lengthy debate in Inverness yesterday, councillors agreed to maintain £50,000 of the funding – for now.
The cost will be met by a complex council budget adjustment involving loan repayments.
Inverness Citizens Advice Bureau chief Alasdair Christie, who doubles as the council's Liberal Democrat group leader, had to watch the debate from a monitor outwith the council chamber because of his dual role.
Speaking afterwards, he said: "It's disappointing for the staff, volunteers and clients.
"We'll have to review what we do but there's a risk of redundancies at bureaux across Highland.
"It will vary from bureau to bureau but you're probably talking maybe six full-time equivalent jobs across both projects."
He said it would not impact clients for five months but would have an effect on the service without fresh funding from national government after that period.
"It'll have a severe impact on people going through life-changing events, either through pregnancy or through a mental health diagnosis," Mr Christie added.
More than a dozen volunteers from the Inverness and Nairn bureaux were in the council chamber to witness the debate.
Among them was Jill Stewart, who said: "It's disappointing. Some of the projects will be able to continue over the next few months but this will mean more uncertainty – something's going to go."
Fellow Nairn branch volunteer Rick Stewart said: "Demand has increased with the advent of universal credit, so we're very busy.
"A lot of the projects that we have are coming to an end which is going to mean more pressure because experts are going to be taken away from us."
The council has already provided combined funding for both projects of £352,920. Members agreed to fund up to £50,000 with savings made from "treasury management" and have called for a wide ranging review to be carried out to inform the new contracts.