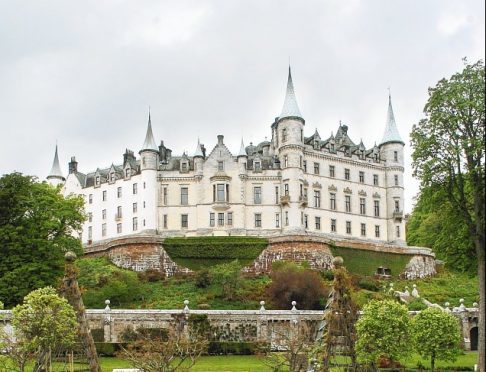 One of the largest castles in the Highlands is planning to build a huge new car park amid soaring visitor numbers since the launch of the North Coast 500 route.
The category A-listed Dunrobin Castle in Sutherland, which dates back to the early 1300s and is the most northerly of Scotland's great houses, last year enjoyed its highest number of visitors for two decades.
Bosses at the castle credited the impact of the North Coast 500 driving route around the Highlands as a significant reason for attracting 12,000 extra visitors by October, compared to the same period in the previous year.
And now they have lodged a planning application to create a new parking area for coaches and cars, which will also pave the way for the existing car park to be used solely for drop-off and disabled access.
Documents lodged with Highland Council suggest as many as 250 spaces would be created at the new car park.
Under the plans, a kitchen area inside the 189-room castle would also be transformed into new toilets for visitors.
The move has emerged just a few weeks after the castle won permission to build a new gin and whisky distillery within its grounds.
Several existing estate buildings are to be transformed into the craft distillery, tasting rooms, a shop and warehouse, with a total of eight jobs to be created as a result.
The new distillery will make a single malt style of whisky as well as two different gins, and is expected to become operational by June 2018.
Last October, Dunrobin Castle's managing director Scott Morrison backed a survey of businesses and attractions near the NC500 route which found the success of the road trip has led to a "noticeable increase" in visitors.
Officially launched in March 2015 by the North Highland Initiative in an effort to develop sustainable economic growth across the north Highlands, it has grown in popularity since being highlighted on TV shows such as Top Gear.
The 516-mile loop around the north of the region was quickly dubbed as Scotland's answer to the famous "Route 66" in the US, and was named "Destination Specialist of the Year" at the 2017 Luxury Travel Guide Awards.
Dunrobin Castle is the family seat of the Clan Sutherland and has been open to visitors for tours for the last four decades.