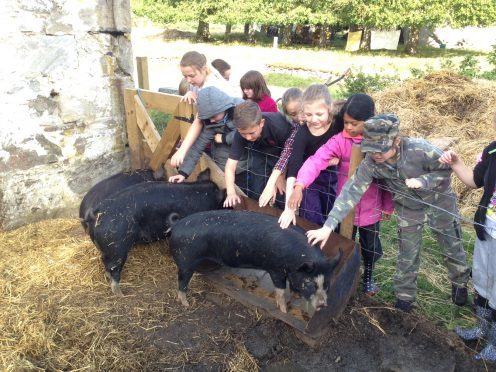 A social enterprise has unveiled plans for a £250,000 outdoor education centre and campsite to teach youngsters about Highland heritage.
The Shieling Project has applied for planning permission to put up three marquees, six small sleeping pods, a gazebo and compost toilets at land south of Dunmaglass, Struy, near Beauly.
The site would be used by up to 30 youngsters and three teachers at a time, to encourage learning about local traditions and skills.
It is inspired by the former practice whereby children would help take the livestock up the hill to "the shieling", camping there in small bothies and discovering a world beyond the village.
Project founder and leader Sam Harrison said: "We've been about for a couple of years and now we're hoping to put up our shieling-inspired sustainable camp.
"The kids have been helping with the designs. It's exciting times. It will be an education centre – a really simple campsite.
"The point is that we're inspired by the shieling, where kids used to take the cattle up on the hill and camp there.
"We have primary school kids and we have secondary school kids. We offer week long trips for schools and summer camps. We have people coming from as far away as Aberdeenshire and the Western Isles, but it tends to be Inverness-shire."
The youngsters would help milk cows and look after pigs, as well as learning other skills.
"They come and help us look after the animals, learn to cook and make blankets, and they learn about Gaelic heritage of the shieling," said Mr Harrison.
"The buildings would cost a total of about £250,000. We've raised about half of that and we're working to raise the rest of it, and working with kids in schools.
"We hope through summer and autumn to have it all finished."
The campsite will be easy to dismantle or reconfigure in case the project seeks to move locations, and aims to provide a camping experience while remaining safe and secure.