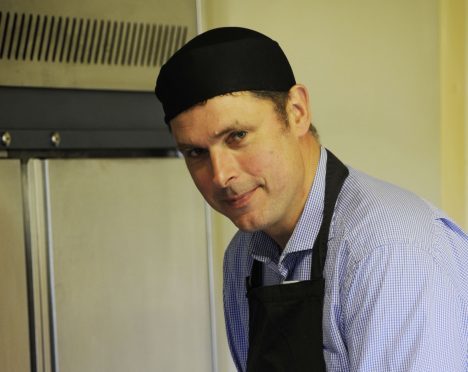 A businessman ended up in court after he clipped a fellow entrepreneur while driving past him on a single-track road.
Steve MacFarlane, 56, who owns the award-winning Glenuig Inn in Lochaber, told a court how he was walking along a narrow gravel track with his assistant Christine Stewart, 54, when he was hit from behind by the wing mirror of a van.
At the wheel was local smoke-house owner, 53-year-old Christoph Ewers – and at Fort William Justice of the Peace Court yesterday he denied careless driving on the access track to his Ardshealach business on August 11, 2015, by colliding with Mr MacFarlane.
Ewers told the court that previously Miss Stewart, who owns a house beside the smokery, and he had fallen out over an access issue and there was 'bad feeling' between himself and the inn owner.
Mr MacFarlane told Fiscal Martina Eastwood: "I was struck from behind by the van's wing-mirror. I was shocked. It spun me round.
"The driver got out and started remonstrating with me, asking me why I had not stepped off the track like Christine did. There was quite a tirade of abuse from him.
'It only lasted seconds but long enough for me to feel that it was being made out I was at fault."
Mr MacFarlane said that in the afternoon he went to the accident and emergency department at Belford Hospital to get checked out. There were no bone fractures but there was some soft tissue damage and he took painkillers.
The next day he reported the incident to the police after Ewers refused to give him his insurance details.
Asked by defence lawyer Hamish Melrose if there was any bad blood between himself and the smoke-house owner he replied,' Not really.'.
Father-of-three Ewers, who lives in nearby Acharacle, told Mr Melrose he saw the pair stepping along the track in front of him and when he saw them go into single-file, with Miss Stewart moving onto the verge, he went to pass them at walking pace.
He said: "There was room to get past Steve. Lorries use the track to get to the smoke house. There was a loud bang and the mirror was folded flat against the van.
'Due to our special relationship I think the mirror was deliberately hit.
'I got an email from him next morning asking for my insurance details but I saw no reason for that.I saw no injury.'
The three justices of the peace reached a guilty verdict with Ewers being fined £150 with three penalty points.