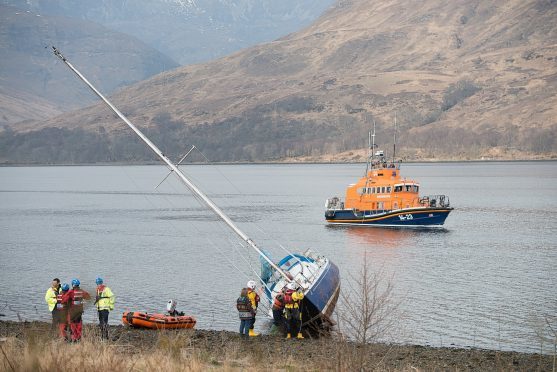 A man has been arrested after a yacht drifted into shore and ran aground at Fort William yesterday.
The vessel, which was sailing down Loch Linnhe, ended up beached and lying on its side not far from the yacht club in the town.
A team from HM Coastguard arrived quickly at the scene as well as officers from the local police.
The Oban lifeboat was also launched and stood by as investigations were carried out at the shores of the loch.
A Coastguard spokesman, based in Stornoway, said: "We were called out as a boat had gone ashore at Fort William and we were asked to assist the police. It seems that the yacht had gone aground, but we don't know how long it had been in Loch Linnhe for before the incident happened."
A member of the public said that flares had been seen over Loch Linnhe earlier, but this could not be confirmed by the emergency services.
A spokeswoman for the RNLI said: "Oban Lifeboat was launched shortly after 8am yesterday morning to assist the emergency services with an incident involving a grounded yacht off the shores of Fort William."
A local councillor, who lives near the yacht club, watched the incident unfold.
Allan Henderson, who represents Caol and Mallaig, said: "The boat just drifted in really gently and lay on its side on the shore. The police and Coastguard team were there very quickly and the lifeboat was offshore too.
"The loch was flat calm at the time. The boat was still lying there later in the afternoon, but once the tide comes in I expect it will right itself quite easily."
Traffic had to be directed past the emergency vehicles parked at the side of the busy A82 at the entrance to the town.
A spokeswoman from Police Scotland said: "A man has been arrested following an incident in Fort William."