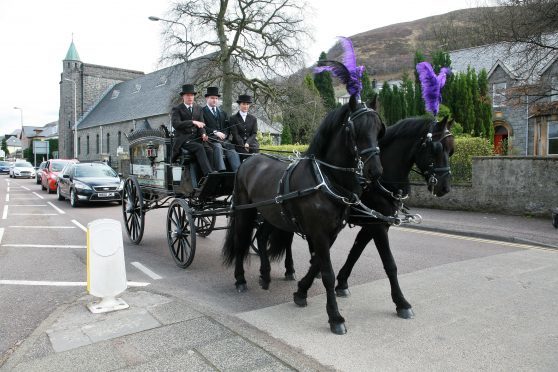 A horse-drawn funeral carriage took a young mother from a Fort William church to her final resting place yesterday.
The funeral procession, which was led by two Friesian horses, was the first of its kind in Lochaber for many years, and followed the route from St Mary's RC Church in the town to Glen Nevis cemetery.
Sandra Gemmell lived in Fort William and was just 36 when she died last month. She was part of the travelling community and her family particularly requested that horses should lead the cortege.
The funeral was conducted by local company, John McLellan of Dudley Road in the town – and director Scott Greenlees said it was a very moving occasion.
"The horses came up from Biggar in Lanarkshire and the carriage arrived separately. It was a beautiful, traditional Victorian-style one with clear sides, and it was the family's first wish that horses should lead the cortege when they discussed Sandra's funeral.
"I know horse-drawn carriages have been used before at funerals in other parts of the Highlands, but to my certain knowledge, this is the first occasion there has been one in Lochaber for a very long time. I spoke to some people afterwards and they said they hadn't seen one like it in the area for more than 60 years.
"When the cortege left the church it went down to the main roundabout in the town before turning and following the road on its way up towards the cemetery.
"Some of the bends on the road at Glen Nevis can be quite tight, but the horses managed very well."
Mr Greenlees added that the horses, called Spot and Toby, were on their best behaviour throughout the sad occasion.
"It was a private funeral which was what the family wanted for Sandra. A horse-drawn carriage is a lovely tradition and as we went through the glen, the sun came out too which was nice for the family."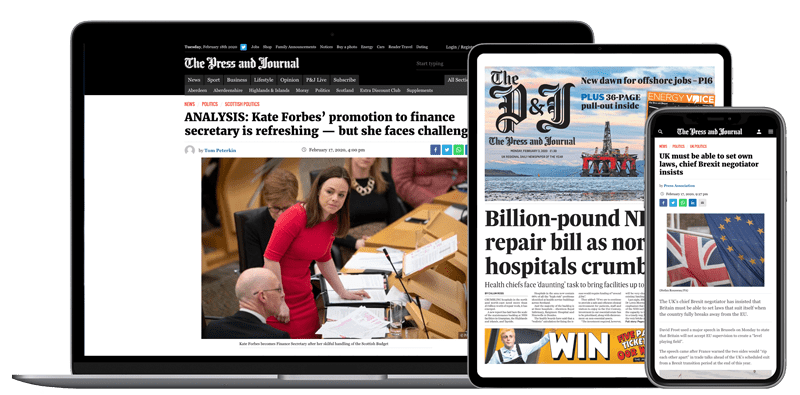 Help support quality local journalism … become a digital subscriber to The Press and Journal
For as little as £5.99 a month you can access all of our content, including Premium articles.
Subscribe