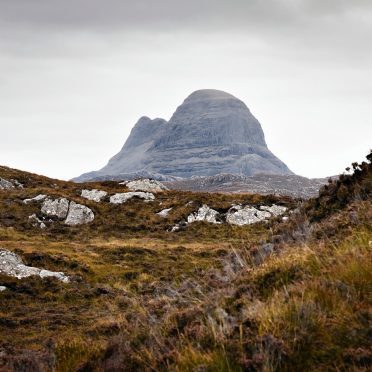 A £200,000 repair of the paths on one of Scotland's most distinctive mountains has begun.
The most popular approach to Suilven from Glencanisp is rapidly deteriorating, partly because of the number of walkers setting out to climb the hill.
The restoration project will set out to repair an eroded one-and-a-mile section of the route to prevent further damage and to protect the rare habitat of peat bog and wet heath.
The 2,398ft peak is well known because of its distinctive outline, appearing as a huge dome when seen from nearby Lochinver.
Suilven is owned by the Assynt Foundation community group, which is carrying out the path repairs in partnership with the John Muir Trust which is acting as project manager.
The project will create around 10 jobs during the construction phases which will run through the late spring and early summer of 2017 and 2018.
The work will be carried out by Arran Footpaths, which will carry out hand-built work on the steep path to the summit, and ATC Heritage, which will work on the approach, using an excavator to quarry gravel on site.
A helicopter will be used to fly in around 100 tonnes of stone for building cross drains and steps. .
Chris Goodman, paths officer for the John Muir Trust, said: "This is one of Scotland's best-loved mountains and we'll be treating it with the respect it deserves.
"We will only on those sections of the path where there is erosion – and we will make sure the repairs are carried out in a sensitive manner so that it blends in well with the landscape.
"Thanks to support from players of the National Lottery, this work should help ensure that both the spectacular views of the mountain and the enjoyment of walking up its slopes are protected."
As well as those directly involved in the path construction, there will also be opportunities for local artists and writers to be involved with documenting the work.
Funding for the project has been received from the Heritage Lottery Fund, while the John Muir Trust has raised more than £75,000 – including £18,000 which was won in a Europe wide online poll in 2015.