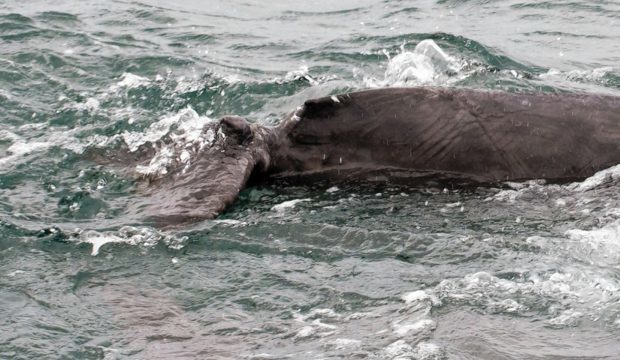 A dolphin which was horribly injured by a boat last year has been spotted in West Highland waters jumping, playing and having fun entertaining tourists.
The bottlenose dolphin was spied among a playful pod of the friendly creatures during a trip from Jura to Oban.
The dolphins were seen on an excursion organised by Oban-based wildlife tour company, Basking Shark Scotland, and it soon became obvious that one had been injured by the large damaged area near its tail.
But despite making regular trips of this kind, no-one could remember seeing this particular dolphin before, so the company decided to delve into its past.
Basking Shark Scotland founder, Shane Wasik, said: "The damaged area looked like it had been caused by a boat strike. We do encounter this resident pod during the summer season but we could not remember ever seeing this individual. Having such an obvious identification mark meant it could easily be tracked and so we started making local enquiries.
"After discussions with researchers from the Scottish Association for Marine Science, SAMS, and the Hebridean Whale and Dolphin Trust, HWDT, along with crew of some of the other tour boats we managed to put together a chronology.
"The first recorded sighting was in May 2016, along the coast of north west Mull when the wound was thought to be 'fresh'. Next during June and July it was signed in the Sound of Luing by tour boats there, but the wound had healed to an extent. Another sighting near Tobermory on Mull in July 2016 seemed to be the last recorded sighting we could find locally.
"But when we saw it last week, the wound appears to have fully healed and, given the playfulness with other members of the pod, it seems to be healthy too."
Mr Wasik, a marine biologist, added: 'It was great to see the dolphin in relatively good health for such a large damaged area. Given its obvious marking, it made for an interesting exercise to see if we could track its previous movements. However as the injury is likely to be from a boat strike, it is also a good reminder for all recreational and professional boat-users to act responsibly around marine mammals.
"Bottlenose dolphins do have amazing healing powers and various studies have monitored healing times after boat strikes near harbours. But it really was a happy coincidence to see it when we did as April 14 was National Dolphin Day."