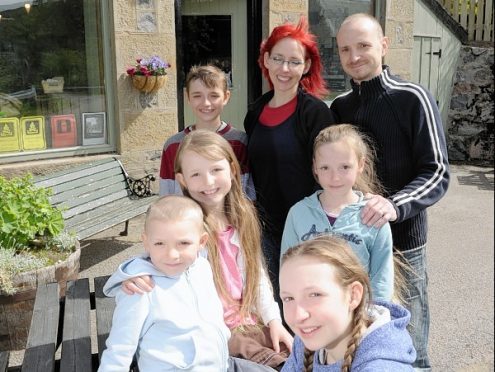 A heartbroken family will be removed from their Highland home, put in taxis bound for an airport and deported in a fortnight's time.
Canadian family the Zielsdorfs, who invested £300,000 in Laggan Stores and a cafe and holiday-let business, fought a long legal battle in an effort to remain in Scotland – but have now reluctantly accepted their fate.
Father-of-five Jason Zielsdorf, whose ancestors hailed from Sutherland, yesterday spoke of his sadness, saying he felt "dehumanised" by the experience.
He has opted not to resort to even more lengthy and costly human rights legislation.
He said: "We came back to reconnect with roots, to give, to invest and to appreciate the culture – not to sponge.
"We put £300,000 into the place and they're not even letting us realise that on our way out. All our assets are in this building. I'll miss the place terribly, we've been well received."
He said the authorities had confiscated their driving licences and would "put us in taxis to the airport."
Mr Zielsdorf's attempt to renew a business visa was rejected in 2015. He was previously on a student and then post-study work visa and believed his application, backed by 67 letters of support from locals, had a strong chance of approval. A second unsuccessful attempt followed.
He and his wife Christy later received confirmation that they had no legal recourse to stay. They agreed to leave and were granted a few months to tie up their affairs but have, so far, been unable to sell the shop, which featured in the series Monarch of the Glen.
A spokesman for the Home Office said: "All visa applications are carefully considered on their individual merits in line with immigration rules and based on evidence provided by the applicant."
Former prime minister David Cameron had pledged to look into the case, insisting he would make sure the Home Office examined it "urgently."
Local MP Drew Hendry, who had intervened on the family's behalf, said: "It's devastating that despite every possible effort, they've been forced from their home, their friends and a place that they have long called home.
"Despite complying at every turn, they've been treated with utter contempt by the Home Office and increasingly right wing Tory government.
"They will be missed dearly and I share the community's anger that this government's draconian immigration policy has defied logic."
Laggan Stores became known to millions as McKechnie's in the BBC TV series Monarch of the Glen.