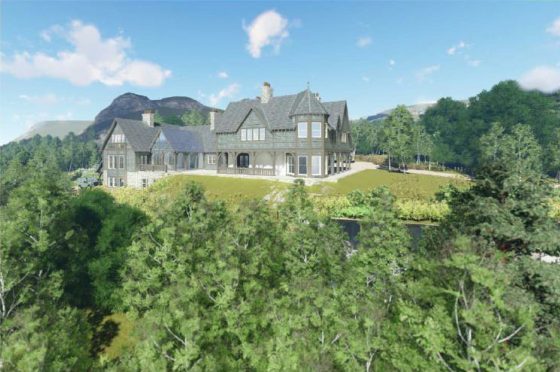 Plans have been approved for the first phase of a world-class shooting lodge and spa in the Highlands which could create in excess of 100 jobs.
Applicant Wildland Ltd wants to achieve its tourism masterplan by renovating a series of buildings spanning the Kinloch, Hope and Loyal estates in north-west Sutherland.
The project focuses on the area around Hope Lodge, which will continue to be used as a sporting lodge to be let to guests, but will be restored and gain an additional wing, including a large dining room, new working gun room and more en-suite bedrooms.
Restoration of the original building will involve general repair works and the rebuilding of its large stone chimneys.
Steep ground to the south of the lodge will be excavated to create new underground rooms overlooking Loch Hope.
Surrounding cottages and outbuildings will be restored or upgraded to provide visitor and worker accommodation.
A central facility for visitors would eventually be built in the upper deer park to the north of the existing Kinloch Lodge – six miles to the south east of Hope Lodge – and would be known as the Wildland Hub and Spa.
This centre will provide a host of recreational activities for guests.
A planning support statement says that the tourism facility will be more like resorts seen in Patagonia or northern Canada than those in Scotland such as Skibo or Stobo.
As well as tourism, the planning statement suggests there will be room for housing development at Tongue – including affordable housing – and further facilities and infrastructure.
An extract from the design and access statement for the project reads: "The Wildland project will have a significant impact on the local economy by providing in excess of 100 full-time employment positions as well as generating other employment in the area."
It adds: "Central to the proposal is a new world-class recreational facility which, due to its central location, is perfectly positioned to provide access to the rest of the estate and will serve as a base for exploring the Wildland."
Hope Lodge was designed in 1878 by William Fowler for the Duke of Sutherland and is a category B listed building.
A decision to approve the Hope Lodge plans was made by Highland Council planners under delegated powers on April 4.
There will be between eight and 10 planning applications associated with the Wildland programme.
Wildland Ltd is the management company established by Danish billionaire Anders Holch Povlsen which owns the estates concerned under these proposals.