A major police investigation into the mass poisoning of birds of prey in the Highlands has been dropped.
The force was under fire last night after failing to charge anyone in connection with the largest spate of raptor poisonings in Scotland.
The remains of 12 red kites and four buzzards were found on land to the east of Conon Bridge in March and April 2014.
Despite a high profile investigation being launched, nobody was ever charged – and police last night confirmed that the inquiry was over.
Under Scots law, there is a three year limit, known as a time bar, for bringing a prosecution in such a case.
North divisional commander Chief Superintendent Philip MacRae said the outcome was "very disappointing" and blamed a lack of evidence from preventing the force from taking the case to a prosecution.
Police have always refused to reveal what killed the birds when the investigation was live – but last night they broke their silence.
They disclosed for the first time that the protected birds were poisoned by a combination of pesticides – Carbofuran, Aldicarb and Carbosulfan – all of which are banned in the UK.
A wildlife expert last night said the combination was "extremely toxic".
Chief Supt MacRae said the police had worked with a wide range of partner agencies and had deployed specialist officers and a dog trained in detecting pesticides.
He said: "Every line of inquiry has been explored as part of our investigation into the deaths of these birds of prey, including large scale searches and a detailed investigation by CID and wildlife officers."
He added: "The inquiry has been regularly reviewed for any new lines of inquiry and it is therefore very disappointing that there has been insufficient evidence to progress this case any further."
A total of 22 dead raptors were found dead within a small area near Conon Bridge, and 16 of them were later officially confirmed to have been poisoned.
The deaths sparked fury across the north and among wildlife groups – and led to a reward worth more than £27,000 being gathered.
Black Isle red kite project officer Brian Etheridge said he claimed police had made a mistake at the outset of the investigation by publicising the deaths – which he believes would have alerted the culprits.
He was involved in establishing the Black Isle red kite population – and then found several of the carcasses himself.
Mr Etheridge said: "It is without doubt the largest detected poisoning incident in Scotland and for the police to draw a complete blank after three years is very disappointing.
"Hopefully Police Scotland will have learned from what I believe are mistakes they made at the beginning."
He said he hoped heightened public awareness of poisonings as a result of the deaths would prevent it happening again.
Andrea Goddard, a volunteer at the Tollie red kite centre near Maryburgh, set up campaigning group Lets Get Mad for Wildlife off the back of the deaths.
Last night she said: "It's hugely disappointing but sadly it's not unexpected.
"We kept on hoping for a prosecution but it wasn't to be.
"We hoped that the reward that was on offer would encourage someone to come forward but even that didn't happen."
The police investigation involved searches of several farms around the area where the birds were found.
Around seven months after the deaths, police revealed they believed that the poisoned birds were not targeted deliberately but had been the victim of an attempt to control pests using illegal baits.
Detective Inspector Scott Macdonald, who led the inquiry, said: "I remain convinced, based on the advice of partners involved in the investigation, that the bait was laid for illegal pest control and not specifically to target the birds of prey, however they became the unfortunate victims of this illegal act.
"Using illegal pesticides is wholly unacceptable; it poses an indiscriminate danger to humans and wildlife alike.
"Although this case is no longer active, we continue to take the use of illegal pesticides seriously and I would encourage anyone with information to come forward to Police Scotland or anonymously through Crimestoppers on 0800 555 111."
Duncan Orr-Ewing, head of species and land management for RSPB Scotland, said: "This appalling incident should act as a warning to anybody contemplating using illegal poisons in the countryside as to the possible risks to red kites and other vulnerable wildlife.
"We look to individuals and businesses who may still hold stockpiles of banned pesticides to dispose of these chemicals safely following the advice of the public authorities.
"We thank the police for their thorough efforts in investigating this case, and also to all parties who offered up a reward for information leading to a conviction."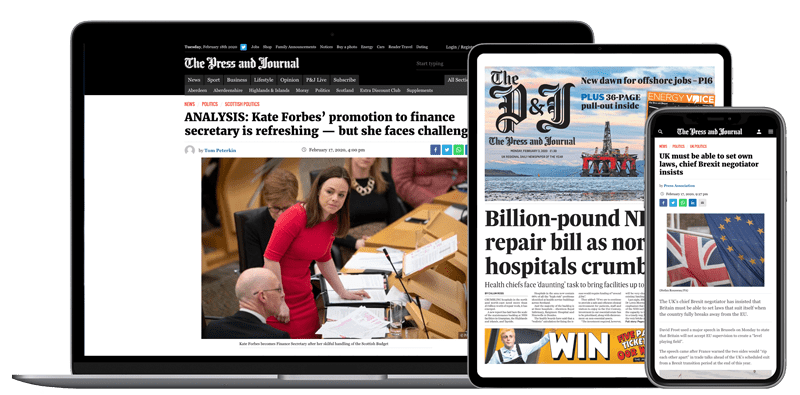 Help support quality local journalism … become a digital subscriber to The Press and Journal
For as little as £5.99 a month you can access all of our content, including Premium articles.
Subscribe