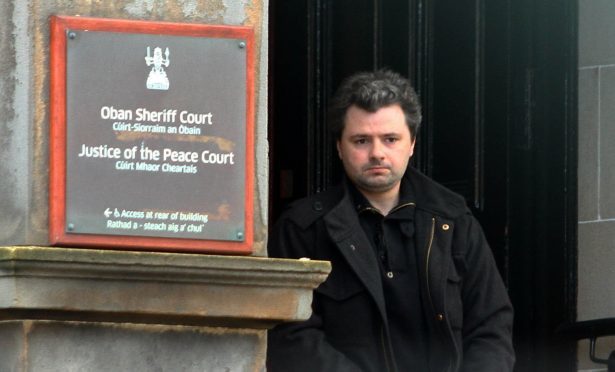 A Highland man caught with hundreds of thousands of child porn images had so many illicit pictures police were unable to categorise them all.
After uncovering Lliam Martin's cache of more than 750,000 files, officers worked for eight months sorting and categorising the horrifying images, tens of thousands of them at the worst level.
But they had to give up on almost 600,000 of them because they reached the legal timebar for dealing with the case.
Last night charities described the crime as "appalling" and "horrific", while one politician questioned why the case did not go to the High Court.
The 34-year-old appeared at Oban Sheriff Court yesterday and admitted possessing indecent photographs of children at Dungallan Terrace between November 2008 and June last year.
Fiscal Eoin McGinty said: "Simply because of the sheer number of images, those that were tasked with categorising them had to draw a line given the impending timebar. Two people were working full-time between June and March on this single case."
He said that in total there were 168,800 still images and 40 moving images. These were discovered on SD cards, a Mac Book laptop and a computer unit.
Mr McGinty added: "There was a substantial tranche that was left. There were a further 597,000 images that have not been looked at and categorised. They are suspected indecent images of children."
Martin's home was raided on June 21 after police received "sensitive intelligence".
Mr McGinty said: "Police attended the accused's home address at 8.40am. He lived with his parents.
"Police spoke to the accused who at that stage was in his bed. He handed the police five SD storage cards."
The court heard that Martin told police one of the cards contained "porn of all ages".
Mr McGinty said Martin had created files with names such as "10 year old girls in changing room," "Angels," and "Adult beach girls topless".
Sheriff Ruth Anderson asked: "Are we talking about adults?"
He replied: "No we are talking about children. I unfortunately had a look, some of them are babies. Some are older."
The sheriff deferred sentence until May 23 for a background report to be prepared.
She told Martin: "While all sentencing options are open, you can expect a custodial sentence."
He was placed on the sex offenders register.
Douglas Ross, shadow cabinet secretary for justice, said: "This is an extraordinary number of images containing child abuse and I'm surprised it wasn't dealt with at the highest level of the court in Scotland.
"The fact that the police have been unable to go through hundreds of thousands of images because there were so many, before this case came to court, highlights what an extraordinary amount of images this individual had in his possession.
"I would hope the punishment does justice to the number of sickening images this individual had."
A spokesman for NSPCC Scotland said: "Martin amassed an appalling number of child abuse images. Every single one is an individual crime scene involving a real child who will need considerable support to recover from the abuse inflicted on them and who could still be in danger today.
"Every time sickening images like these are viewed the demand for them is increased, leading to more victims being abused. The creation and distribution of Martin's horrific haul is part of a heinous industry that destroys childhoods.
"It is vital that individuals who are in possession of these images are investigated and brought to court to account for their crimes. The NSPCC is also calling for technology companies to commit expertise and take action to prevent this sickening material being available."
The Crown Office was not able to comment last night.