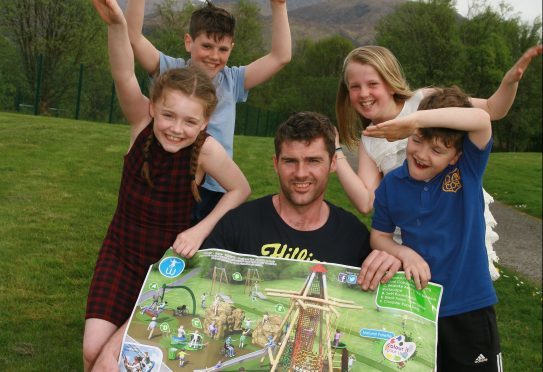 The mission of Lochaber residents to create a new play park in their village moved a step closer to reality this week.
A site for the project in Caol has now been agreed with Highland Council and the first £50,000 towards the venture is also in place.
Now members of the seven-strong committee behind the plan hope their two year wait to build the new park will soon be over.
Damian Macdonald, 32, of Mackay Crescent, spearheaded the project. He said: "The site is at Banavie Road next to Bun-sgoil Ghàidhlig Loch Abar, the Gaelic School, and the council has offered us the land on a 25 year lease.
"Because of the council's flood prevention scheme in Caol, the old play areas near the shore are being removed so we were given £50,000 in compensation.
"If all goes well we hope to apply for match funding from the LEADER scheme."
Mr Macdonald said that the committee has had lots of support from the local community.
"For being such a large village, the facilities for young people in Caol are terrible. Everywhere you go there are 'No ball games' signs. We want the new play park to be totally accessible for children of all ages and abilities and we have gone into a few of the local schools to show children some of the designs and hear what they want.
"When I first started trying to get a new play park, I had no idea there were so many hurdles to climb, but we're so close now we're more determined than ever to make this happen," he added.
The Caol play park committee has been helped by Inverness-based consultancy, Alan Jones Associates, which was also involved with the successful Plantation play park in nearby Fort William.
Mr Jones said: "We carried out a feasibility study in Caol nearly a year ago to find out what the community wanted. Banavie Road was identified as the best site and Highland Council sent through the agreement this week.
"All that's needed now is the support of Caol Community Council for this site and we can go ahead with raising more funds for the project.
"We would ideally need £100,000 to start the first phase of the park and we hope to have three phases altogether. A total of £249,000 was raised for the Plantation park and it has been a great success."
Mr Macdonald will be taking the play park plans along to a meeting of Caol Community Council on Monday night and will be able to answer any questions about the project.