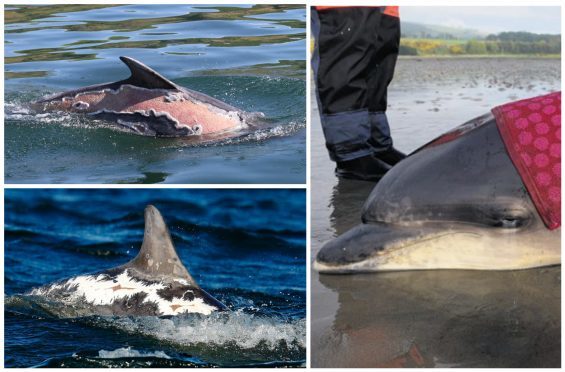 A dolphin which suffered horrific sunburn across 40% of its body last year, when it washed up on a Highland beach, has made a "mind-blowing" recovery.
The female bottlenose, nicknamed Spirtle, was discovered covered in blisters and clearly in pain on the shore of Nigg Bay in the Cromarty Firth on May 29 last year by a passing motorist.
The creature had been stuck on dry land for several hours and, following an overnight operation by a team of volunteers over 10 hours, she was successfully re-floated.
Spirtle was left stranded for several hours before she was rescued by volunteers last May
The vet, who initially examined Spirtle said at the time her chances of survival were only 50-50, but now, almost a year on, she has been spotted back with her Moray Firth pod, swimming strongly and even babysitting for her sister's young.
Charlie Phillips, a conservation officer for the charity Whale and Dolphin Conservation said Spirtle's amazing recovery could be the subject of scientific papers for years to come.
He said: "It was a perfect night last Thursday in the Moray Firth, there was still plenty of light and conditions were good.
"I had been following a pod for a while, and noticed a flash of white, and thought that I must have seen Spirtle.
"I tracked her for a while, and managed to get a good few shots of her damaged back and she surfaced.
Spirtle had suffered horrific burns across around 40% of her body.
"Her chances of survival were really remote when she was first found, so to see how much she has healed in the last year is astounding.
"She was missing seriously large chunks of a skin, there's no way a human would be able to survive that.
"But all dolphins and whales, or cetaceans, have this amazing skin. It has to be very durable to handle the dangers of living in the sea presented by other creatures, infections, and the cold.
Spirtle's wounds have now almost completely healed
"But Spirtle has healed a lot faster, and a lot better than anyone would have thought. Her recovery will certainly be of interest to scientists.
"Judging by the rate her skin and blubber is growing over her exposed flesh, I would estimate her wounds will have almost completely healed by the end of the year.
"It's truly mind-blowing."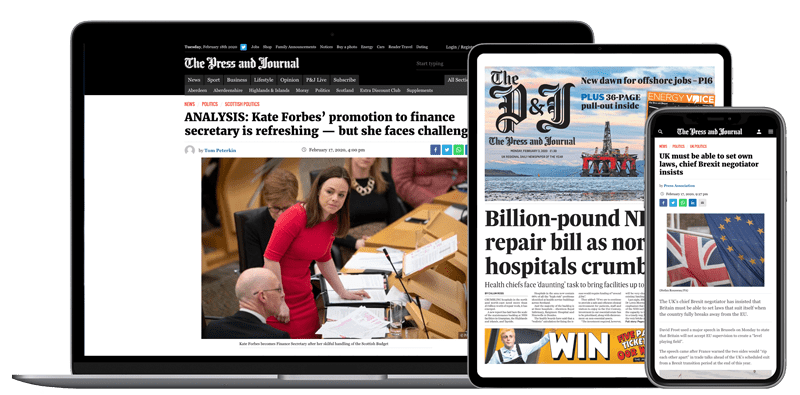 Help support quality local journalism … become a digital subscriber to The Press and Journal
For as little as £5.99 a month you can access all of our content, including Premium articles.
Subscribe