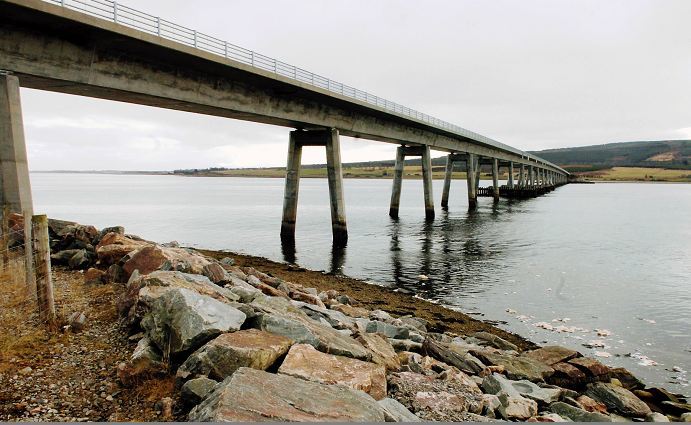 Major investment has been demanded for the north's busiest road after new figures revealed traffic has more than doubled in recent years.
Data released to the Press and Journal has shown a sharp rise in the volume of traffic at key points on the A9 between Inverness and Caithness in the last two decades.
Average daily traffic on the Dornoch Bridge has rocketed from 3,001 vehicles in 1996 to 6,404 last year, while the flow on the Cromarty Bridge has increased from 7,050 to 10,592.
The figures were hailed last night as "great news" and evidence of the north's growing popularity as a business and tourist destination.
But local politicians and business leaders also called for more investment on the route to cope with the rise in traffic amid predictions that the trend will continue.
Trudy Morris, chief executive of Caithness Chamber of Commerce and chairwoman of the Caithness Transport Forum, said: "It is great news for the north Highlands that traffic to and from the area has seen such substantial growth over the last 20 years.
"This area has a huge amount to offer, both for businesses and for leisure travellers, and these figures reflect a growing interest in the region.
"This is no doubt in part thanks to the work of initiatives such as North Coast 500 and Venture North, and we expect to see this trend continue.
"However, this does reflect the need to look seriously at investment in the region's roads to cope with this increase in traffic.
"With the upgrade to the Berriedale Braes now planned to start in 2018 it is time to start looking at other potential 'choke points' on the region's roads and ensure that locals and visitors alike have a travelling experience that is as smooth and trouble-free as possible."
The Scottish Government confirmed in March that a long-awaited improvement scheme will finally get under way at the notorious Berriedale Braes section of the road next year and is scheduled for completion by late 2019.
Transport chiefs are also currently dualling the A9 between Perth and Inverness after a long campaign, but have no plans to do the same on the northerly section.
Maintenance work is scheduled for both the Dornoch and Cromarty bridges this year, however.
Matthew Reiss, councillor for Thurso and Northwest Caithness, believes the traffic figures can be linked to a rise in tourism to the far north.
"Car usage has increased. I suspect in real terms the cost of running a car has probably reduced and I suspect that another factor is tourism, with the NC500 in the last couple of years and general tourism, which is actually a good news story," he said.
"We need to think very carefully about making sure our landscape is protected, because people are coming here for the scenery.
"My view is that small scale improvements to the existing road is all we're likely to get. We need to be sensible about it but I do actually feel we're deserving of extra money."
The hugely popular North Coast 500 driving route around the Highlands was launched two years ago and may have contributed to a rise in traffic on the Dornoch Bridge from an average of 5,848 vehicles a day in 2015 to 6,404 last year.
Yvonne Ross, chairwoman of Dornoch Area Community Council, said: "For Dornoch's sake, I would say there are a lot more people buying houses here and commuting elsewhere for work.
"There are a lot of people who choose to live up here but would still commute to their jobs in Ross-shire or Inverness. And we don't have a train link so people cross the bridge by car to use the train in Tain.
"You also get a lot of tradesmen driving across the bridge in their vans. Before they worked predominately in Sutherland but, now, a lot of them work in Ross-shire.
"Of course, there is the NC500 as well but this is just in the last year."
A Transport Scotland spokesman said: "We have set out our clear intention to deliver the £3billion dualling programme to upgrade 80 miles of the A9 from Perth all the way to Inverness, with over 90% of the mammoth scheme now at preferred route status and construction nearing completion on the section between Kincraig and Dalraddy.
"This major project work is tangible evidence of our commitment to upgrade this important road linking central Scotland to our northernmost city, and is addition to the £164 million already invested in maintenance of the A9 since 2007.
"Works are also planned to start in 2018 to upgrade the A9 at Berriedale Braes which will improve journey time reliability and road safety for all road users."