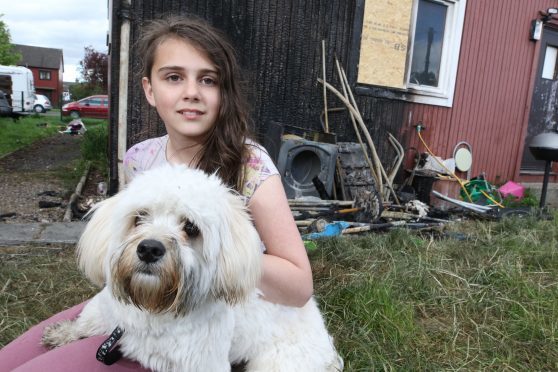 A "super Grandad" came to the rescue of an Inverness schoolgirl – and her dog – after her house went on fire.
Paul Deuchars, who has no permanent home of his own, was visiting his friends for a hot meal and laundry stop when disaster struck.
But he more than repaid the MacPhee family's kindness by getting sleeping Chloe, 11, out of the smoke-filled family home.
And after ensuring she was safe, Mr Deuchars risked his life by going back into the smoke-filled Inverness house to save her beloved dog.
The asthma sufferer then passed out in the street, overcome by the fumes.
The young survivor of Monday night's fire in the city's St Andrews Drive spoke of the drama yesterday.
Mr Deuchars was downstairs with Chloe's 20-year-old brother George when the fire took hold.
The 50-year-old, who has spinal arthritis and survived a heart attack 16 years ago, yesterday denied being a hero.
"I just did what anyone should have done," he said.
"We were sitting in the living room about to have something to eat and there was an almighty bang as the back window smashed. I ran to the front door, round the back of the building and saw the back of the house ablaze.
"I grabbed George and we got Chloe out. I ran back in to grab my mobile phone but it didn't work. I shouted to the neighbours who called the fire brigade, at which point I noticed the dog sitting at the living room window.
"So I ran back in again but I could barely see because of the black smoke. I got the dog, ran out and collapsed on the grass outside."
One theory is that the blaze stemmed from garden waste which had caught alight close to the rear of the two-storey house, possibly sparked by a dropped cigarette. The house was extensively damaged.
Mr Deuchars, who is homeless, was treated in the garden by a paramedic before being taken to hospital where he was detained for several hours.
His clothes were destroyed along with many of the family's possessions.
The council house is currently uninhabitable and the MacPhees, who stayed with friends that night, believe it could be some months before necessary repairs are carried out.
Chloe praised Mr Deuchars' courage in getting her and her dog Marshall to safety.
She said: "Paul was amazing for saving our house. He's my super grandad.
"I'd gone to bed. I heard someone running upstairs and was told 'we have to leave, now' in a very anxious voice.
"I knew this was going to happen. I actually had a dream a few years ago that there was going to be a fire at the house."
Her mother, 37-year-old Louise, had been at a friend's house five minutes away when the fire broke out.
Her other son Campbell, 18, was out at the time. She raced home when alerted by a mobile phone call from a cousin and saw the blaze at its peak shortly before three fire crews arrived at about 9.15pm.
"As I came through the path you could see flames just shooting up," she said.
She praised the "brilliant" 17-strong firefighting team and her neighbours who leaped into action to assist Chloe with clothing and a bed for the night as well as attempting to stem the fire with the use of a garden hose.
Marshall, a year-old West Highland terrier cross lhasa apso, was none the worse for his ordeal.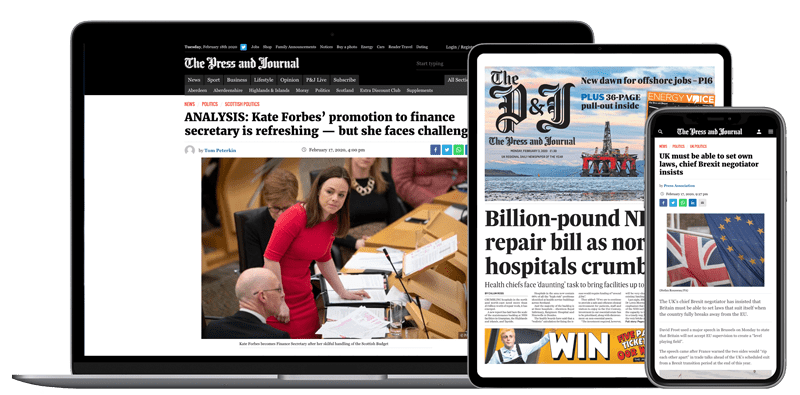 Help support quality local journalism … become a digital subscriber to The Press and Journal
For as little as £5.99 a month you can access all of our content, including Premium articles.
Subscribe