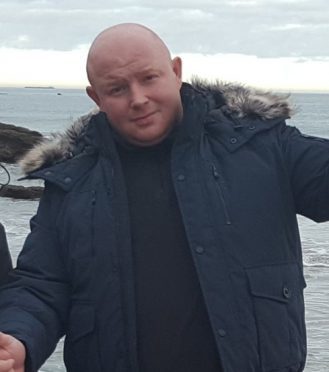 A young father was crushed to death while working at a Highland quarry, leaving a widow and five-year-old daughter – after moving from Poland for a better life.
Pawel Kocik, a 34-year-old machine operator, died while working at Leiths' Kishorn Quarry in Wester Ross.
It is understood he suffered horrific chest injuries.
Woman told mother she had too many children, then tried to abduct one of them
The Health and Safety Executive (HSE) has begun an investigation into the tragedy earlier this week.
Yesterday, grieving relatives travelled to Inverness from their home in Edinburgh to identify Mr Kocik's body.
He leaves a 31-year-old widow, Karolina, and five-year-old daughter Julia.
Struggling to hold back her tears, his sister Ania Liszek, 40, said: "Pawel was a very good man who deeply loved his family."
The tragedy happened at about 11.30am on Wednesday. Mr Kocik's body was recovered at 6.30pm. Family members were informed by police who went to their door in Edinburgh that day.
Last night, the grieving family accused Leiths of failing to keep them up to date, claiming they had to pursue Mr Kocik's employers for information.
Urging the firm to pay the funeral costs and provide other financial help, Mrs Liszec said: "They should have called Karolina to say sorry and to offer help."
Mr Kocik's brother-in-law Michal Liszek said: "I'm very disappointed with the way they handled the case. We've had no information from the company."
Grant Milne, managing director of its quarries division, insisted last night that he did call the family.
He said: "Unfortunately, there was a tragic accident on Wednesday morning at Kishorn Quarry. The HSE are in the process of carrying out an investigation.
"First and foremost, our thoughts and condolences are with they family. It's tragic what's happened. Sadly, I can't say any more until the HSE have concluded their investigation."
Mr Kocik was planning to buy a home in Edinburgh for his family.
Mr Kocik's parents Zdrislaw and Irena also travelled from Edinburgh to Raigmore, along with his brother Tomasz and Tomasz's girlfriend Natalia.
A spokeswoman for the police said: "We received a report of the sudden death of a 34-year-old man at a quarry site in the Kishorn area of Strathcarron at around 11.20am on Wednesday.
"We've been liaising with the HSE. A report will be sent to the procurator fiscal."
A spokesman for HSE said: "We've been made aware of this and we're assisting police with their inquiries. Police retain primacy in line with work-related death protocol."