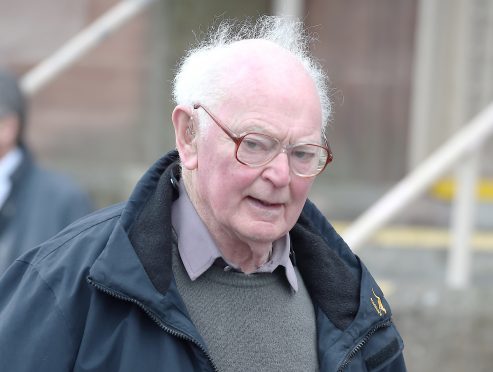 A wealthy Hong Kong businessman "lived in fear" of a teacher priest accused of violent attacks on pupils at a north Catholic boarding school.
Paul Curran, now 50, told a jury that he dreamed of being "haunted and hunted" by Father Benedict Seed, a master when he attended Fort Augustus Abbey school in the early 1980s.
The priest, now 83, is on trial at Inverness Sheriff Court accused of a litany of violence against children betweeen 1974 and 1988.
Mr Curran, a merchant now living in the former British colony, described one incident where he said he was belted with a leather tawse by Seed, leaving his hands and wrists bleeding, swollen and bruised.
Mr Curran went on: "It was not corporal punishment, but an attack carried out in a physical rage."
Seed, whose real first name is Thomas, denies assaulting eight of his pupils over a 14 year period, one with a spiked golf shoe and another with a hockey stick, to their injury.
The incidents are alleged to have happened between June 1974 and July 1988 when former Abbey pupil Father Benedict was a chemistry teacher and headmaster at the school on the shores of Loch Ness.
Seed, of North Brora Muir, Brora, is represented by John Campbell QC.
Fiscal depute Roderick Urquhart asked Mr Curran how often corporal punishment was used at the Abbey and he replied: "Extensively."
He continued: "I lived in fear of this man for most of my time at school. He would haunt my dreams. There were no long-term detrimental effects on me – I didn't have to see a psychiatrist or the like – but I remember feeling hunted by him in my dreams."
Mr Curran said he had been dragged from his bed by Seed after swearing at another pupil who had been annoying him as he lay ill in bed with flu.
He said: "Father Seed heard it. He dragged me into his study and said he was going to belt me, My wrists started to bleed. He was in a fit of rage.
"I was supposed to get six on each hand but there were more strokes because I kept pulling my hands away. He was getting angrier and angrier and said he would get a prefect to hold me down if he couldn't complete my full punishment.
"It was not so much the belting, it was the manner it was dispensed."
He said he had to have his hands bandaged by the school matron afterwards.
In cross examination by Mr Campbell, Mr Curran was accused of being "a naughty boy" and "exaggerating" what had happened.
He replied: "I was not a model pupil. I was a brat but not a hooligan or a delinquent. This is the truth. This has been the source of injustice for me for most of my life."
He added that the punishment was "excessive."
A second alleged victim, company director Michael Mungavin, 50, told how he was caned by the priest after a playful swimming pool prank went wrong.
He explained that he and two other boys were trying to throw another pupil into the school's outdoor pool and he banged his head.
Mr Mungavin said: "Punishment was usually administered by our house master. Father Seed was not, but was supervising the pool.
"He was explosive and impulsive. I was ordered to his study, told to lean over a chair and I had four strikes on my buttocks with a bamboo cane.
"They were pretty severe. I had ridges on my bottom for a couple of weeks."
The trial continues.