An island schoolgirl caught up in the Manchester terror attack is now able to speak to her family after being taken off a ventilator machine.
The parents of 15-year-old Laura MacIntyre said she was making "remarkable progress" after suffering serious head and leg injuries in last week's suicide bombing.
They praised the youngster's "strength and determination", saying: "We have a long way to go but we are going in the right direction."
Laura MacIntyre making 'remarkable progress' in her recovery after Manchester bombing
Laura's friend Eilidh MacLeod, 14, was tragically killed in the explosion in the foyer at the end of the Ariana Grande concert in the Manchester Arena.
Last night, Western Isles MSP Alasdair Allan said he was "really encouraged" by Laura's progress in hospital, having just spent two days on Barra where he witnessed first hand the community's efforts to help both girls' families.
And First Minister Nicola Sturgeon said on social media that it was "so good" to hear the news of Laura's progress, before passing on her wishes to the youngster and her family.
A statement released yesterday by Laura's parents, Michael and Nan MacIntyre, said: "We have been overwhelmed by the love, help and support from everyone. It means so much to us.
"Laura sustained horrendous injuries. The main worries being head and leg injury.
"She is making remarkable progress. Today she came off the ventilator and is talking and recognising us. She is amazing us every day with her strength and determination.
"We have a long way to go but we are going in the right direction. We are so lucky to have her. The hospital and the staff are amazing."
They added: "We only wish that Eilidh was here too, our hearts and thought are with Eilidh's family."
In a statement released at the weekend, Eilidh's parents Roddy and Marion said that they continued to "have Laura and her family in our thoughts and pray that she makes a full recovery".
Funds set up to aid the families of the two girls, both pupils at Castlebay Community School on Barra, have passed a combined total of £80,000.
In a recent letter sent to Andy Burnham, Mayor of Greater Manchester, Western Isles Council leader Norman MacDonald stressed that people of the Western Isles were willing to help both families in "whatever capacity we can".
He also thanked the people of Manchester and the emergency services and said he was "confident, given time," that islanders will "recover from this barbaric attack on our young people".
Eilidh was among 22 people killed by a suicide bomber at the end of the concert last Monday.
Shortly before it ended, she sent a text message to her mother asking to be picked up outside. Mrs MacLeod had travelled south from the Outer Hebrides with the girls and was staying in a hotel in the city.
Tragically, Mrs MacLeod arrived at the venue to scenes of chaos and spent the night and next day searching hospitals, hotels and train stations for her daughter and her friend.
Laura was found in hospital the following day, while Eilidh was confirmed dead the day after.
Yesterday Mr Allan, who was in Barra from Friday afternoon to Sunday morning, said: "It's so very obvious how much efforts are being made locally to help both families in practical ways. As well as the funds raised, the community has really rallied round in every possible way to remember everyone and their families and make every possible effort to provide support. "It's something that left me very impressed by the community of Barra."
On Sunday, Father John Paul MacKinnon, parish priest on the island of Barra, urged the island community to come together and pray as it struggles to come to terms with "a devastating week".
After leading the Mass at Our Lady Star of the Sea church in Castlebay, he remarked that there was still a "numbness" in the community but said it was a very "prayerful session".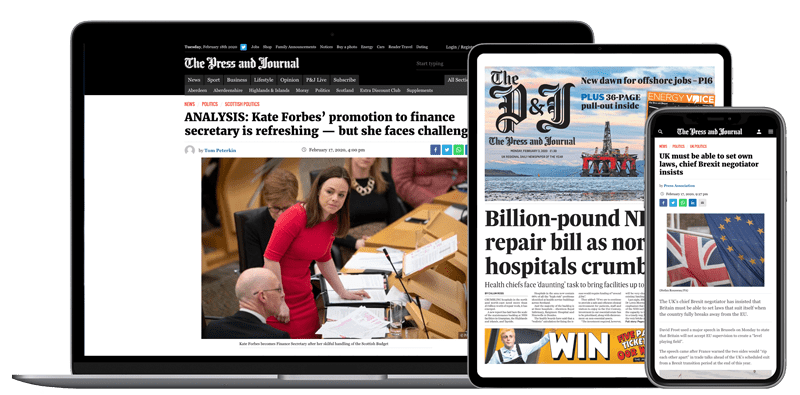 Help support quality local journalism … become a digital subscriber to The Press and Journal
For as little as £5.99 a month you can access all of our content, including Premium articles.
Subscribe