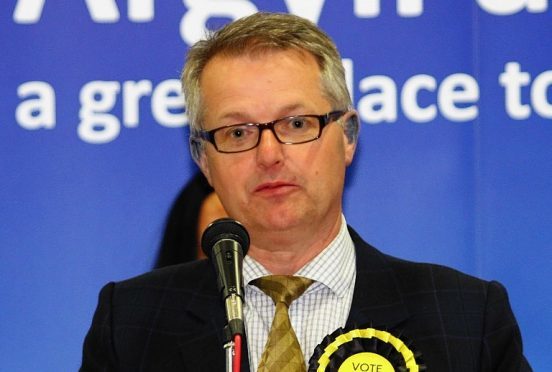 SNP candidate Brendan O'Hara managed to hold on to his seat in Argyll and Bute despite a strong battle from the Conservative candidate.
Mr O'Hara, who had a majority of 1,328, won 17,304 votes, while Gary Mulvaney, his closest rival, took 15,976.
The former MP, LibDem candidate Alan Reid  received 8,745 votes while Labour candidate Michael Kelly had 6,044.
Mr O'Hara paid tribute to his rivals, who he said ran a "fair and good natured campaign".
He added: "Although I am absolutely delighted to be re-elected, it has been a difficult night. I am very disappointed to see so many valued friends and colleagues lose their seats. My thoughts are with them.
"In 2015 I promised the people of Argyll and Bute I would be the hardest working MP and I believe tonight has shown their faith in me.
"In a time of political uncertainty caused by a cynical and opportunistic Prime Minister, an experiment that has backfired, where we are now in a very difficult time, I will do everything that I possibly can to help the people of Argyll and Bute and protect them through these unchartered waters."
Speaking about the SNP losses he said: "This is just a bump in the road. Nothing worth fighting for every came easy. The SNP will be back. We will continue to fight for social justice and independence for Scotland."
Mr Mulvaney said it had been a good night for the Conservative party but across the UK had been a "mixed bag" adding that politics is "a funny old game".
Total electorate in Argyll and Bute is 67,230, with a turnout of 71.6%. There were 69 rejected papers and a total of 48,138 votes cast.