The events that happened after the tragic Tornado crash:
July 3, 2012: Two Tornado GR4 jets from RAF Lossiemouth collide over the Moray Firth while training about seven nautical miles south-east of Helmsdale.
July 4, 2012: MoD says one of two crew airlifted to hospital had died from their injuries and there was no expectation of finding two of the others alive.
July 5, 2012: Wreckage of the jets located as Flt Lt Hywel Poole was named as airman who died from his injuries after being airlifted to Raigmore Hospital.
July 11, 2012: Members of the Royal Family join relatives, colleagues and friends of the three aircrew lost in for a memorial service at RAF Lossiemouth.
July 18, 2012: Ministry of Defence confirms that the bodies of Squadron Leader Sam Bailey and Flight Lieutenant Adam Sanders had been found, as part of the wreckage was brought ashore.
December 9, 2012: MoD says service inquiry report into the crash not expected to be completed until the following summer.
November 26, 2013: Families of the aircrew handed findings of Military Aviation Authority (MAA) investigation into the crash.
December 4, 2013: It emerges that military chiefs were drawing up plans to fit Tornado jets with a crash warning system four years before the Tornado collision.
February 17, 2014: It emerges that former defence secretary Liam Fox cancelled the purchase of a crash warning system for the Tornado jets a year before the crash, only to reinstate it two months later.
June 30, 2014: MAA publishes investigation findings, with 17 contributory factors outlined, including a failure to care for Sq Lr Bailey told doctors he never wanted to fly again weeks before the crash, and failure to instal collision warning systems.
July 1, 2014: Sq Ldr Bailey's wife Fiona speaks of how her family had been left "devastated" by the crash, and launches legal proceedings against the MoD.
October 28, 2014: Plans to finally instal collision warning systems in Tornado fleet hit by further delays.
January 14, 2015: Report by MAA director general Air Marshal Richard Garwood suggests ministers risk repeating the mistakes which led to crash, with "unnecessary risk" caused by ongoing failure to fit warning systems.
January 23, 2015: MoD announces Tornado jets are finally being fitted with anti-crash systems – a quarter of a century after they were first recommended
February 15, 2015: Moray MP Angus Robertson presents Lord Advocate with dossier to "strengthen the case" for a fatal accident inquiry (FAI).
February 27, 2015: Scottish Government confirms FAI into Tornado crash was not mandatory because the RAF Lossiemouth crew were not technically "at work" on the day they died.
March 12, 2015: Crown Office confirms it will not hold FAI into collision, saying one "could not better, and would only repeat" MAA inquiry.
May 5, 2015: Campaigner Jimmy Jones tells Holyrood's justice committee that current legislation on mandatory FAIs "discriminates" against members of the armed forces.
April 16, 2016: Scottish Government announces it has secured "in principle" agreement from the Ministry of Defence for the change to FAI rules for service personnel.
June 15, 2017: Inquiries into Fatal Accidents and Sudden Deaths etc (Scotland) Act 2016 comes into force.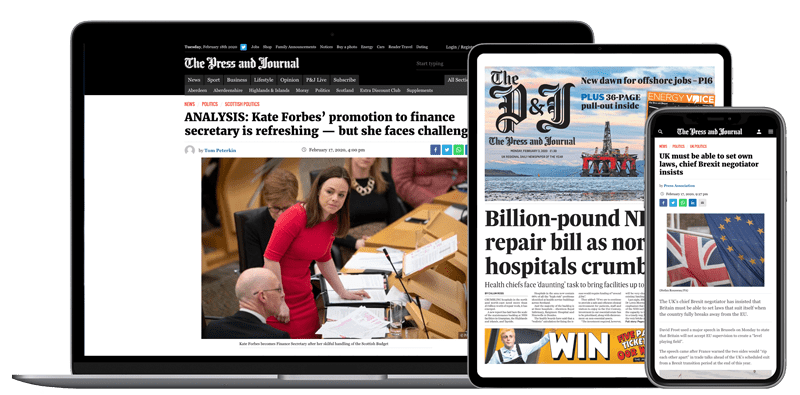 Help support quality local journalism … become a digital subscriber to The Press and Journal
For as little as £5.99 a month you can access all of our content, including Premium articles.
Subscribe