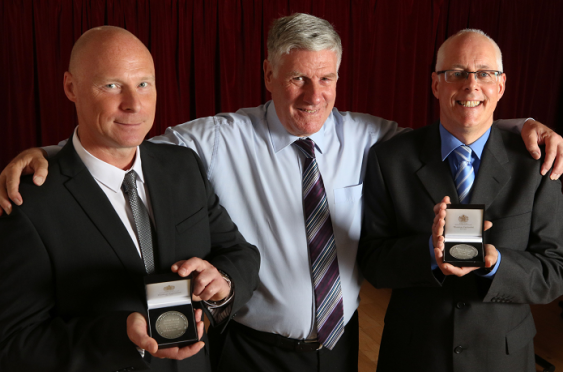 Two modest heroes who saved a colleague stricken by a sudden heart-attack at work were honoured yesterday for their actions.
Highland Council staff John Reid and Richard Duncan received medals – and warm thanks – from survivor Ian Wilson. The pair have also been nominated for a Humane Society award.
Mr Wilson, 64, was oblivious to his ordeal until he surfaced from a medically induced coma, 11 days after the heart-attack he suffered in February.
His colleagues, both trained first aiders, administered cardiopulmonary resuscitation, a procedure combining chest compressions and artificial ventilation.
They were presented with the civic Inverness Medal by provost Helen Carmichael at a ceremony at the city's Town House.
Mr Wilson, an environmental health enforcement officer at the council's Harbour Road offices, had experienced heart issues for several years.
"I can't thank those two enough for what they did – they're brilliant," he said.
"I was fine, I thought, when I arrived at my office. I'd been talking to John moments beforehand. When he returned he found me all over the desk.
"The doctors kept trying to bring me back round but the heart rhythms were wonky and they couldn't get it stabilised so they just knocked me back out again."
The father-of-two, was in hospital for a month and will have a defibrillating implant for life.
His wife Veronica, 67, said: "Without those two guys I wouldn't have a husband, so I can't say enough about them. Effectively, Ian died on February 3."
Mr Duncan, an enforcement officer with trading standards played down any talk of heroism.
"Not at all. I was trained in it," he said. "I just did what I had to do and when it was finished I walked away and got back to work."
Equally modest, Mr Reid said: "The adrenalin kicks in and, if you've had a bit of training, I think anyone else would have done exactly the same thing. It just so happens that I was there."