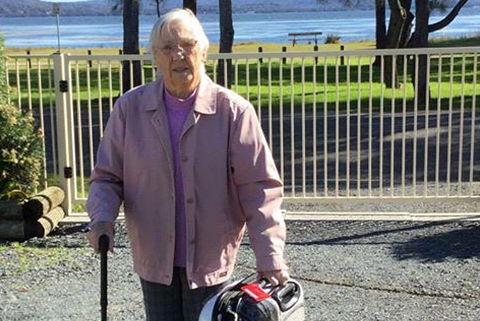 Immigration officials insisted yesterday that they were working with the family of an elderly Highland woman fighting deportation from Australia.
Heartbroken relatives of 96-year-old Chrissie Grant from Dulnain Bridge say she is being forced to return to Scotland – with no immediate relatives to care for her – because the Australia Government has withdrawn the paperwork that had sufficed for the past two years.
Pack your bags and get out, Australia tells Highland gran aged 96
Mrs Grant, who is described as "nearly blind" and has "mild dementia," moved to New South Wales in 2015 to be with her younger son Allan and daughter-in-law Diane after the death of her elder son Robert, who had looked after her in the Highlands.
Despite believing she was complying with her visa, which stipulates you must leave Australia once a year, the nonagenarian is not being deported.
Diane has posted a heart-wrenching picture of her mother-in-law online, gripping a walking stick and a wheelie-case, apparently resigned to her fate.
A spokeswoman for Australian immigration and Border Protection said: "We're aware of this case and have been working with this individual to resolve her visa status for over 12 months.
"All visitors to Australia must hold a valid visa for the duration of their stay and comply with the conditions of that visa.
"This individual has no current visa application with the department.
"Individuals who have no further matters before the department and have been deemed medically fit to travel are expected to depart."
Allan and Diane could not be contacted yesterday but have claimed online that "bureaucrats here unreasonably expired her visa".
Diane has stated: "If it had instead been cancelled we could have gone to the administration appeals tribunal who, I believe, would have overturned this decision."
The couple said they had been embroiled in a lengthy process of form-filling but offered no useful advice by the Australian Government.
Unless a solution is found, Chrissie Grant will be flown home to the UK later this month. It is understood Allan and Diane will travel with her.