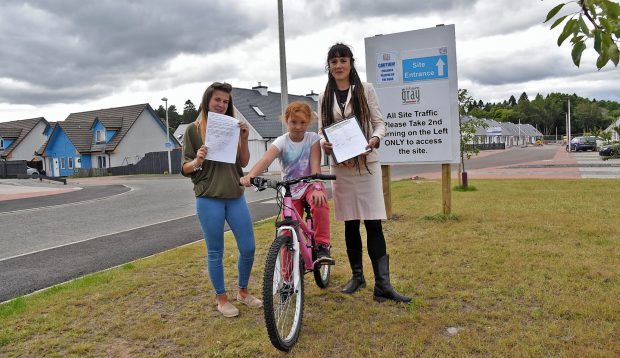 Residents of a Highland village have joined forces to launch a campaign for measures cut traffic speeds on local roads amid fears over children's safety.
Householders in Kiltarlity have started a petition demanding action is taken to address the "very dangerous situation" on their streets.
They have already achieved some success, receiving assurances from William Gray Construction over to and from its Balgate Mill development.
And now, campaigners want Highland Council to introduce new safety signs and speed limits in the community.
Balgate Mill resident Chloe Hardy said: "We want to highlight that the children have no playpark and there are a lot of fast cars going up and down that road, and large construction lorries.
"The children are very vulnerable because they've got no place else to go. A lot of them go up and down that road on bikes, and obviously it's the school holidays at the moment.
"It's a very dangerous situation. I would rather see the situation addressed than wait until after a potential accident."
Ms Hardy added that residents had been pleased by the rapid response to their concerns after they were raised with William Gray Construction.
Willie Gray, the firm's managing director, said: "We were sorry to hear from one of the residents that there were concerns about road safety on the site and we took action as soon as we became aware of the issue.
"We have erected signs reminding drivers of the presence of children in the area, as well as signs on the main road to direct lorries to the second entrance on to the site where we understand from local residents there are unlikely to be children playing.
"The playpark should be complete within the next few weeks which will help resolve the issue.
"Unfortunately construction traffic is inevitable when we're building houses, but we have emphasised to all of our staff the need to consider the safety of the local children, particularly during the school holidays."
A Highland Council spokeswoman said: "If anyone is concerned about speeding or dangerous driving in their area, that is potentially putting lives at risk, they should phone the police on 101.
"Highland Council has a petitions procedure and details can be found on our website.
"When a petition is submitted to us, it is considered and debated by the full council or one of its strategic committees. This may result in us taking further action to address your concerns."