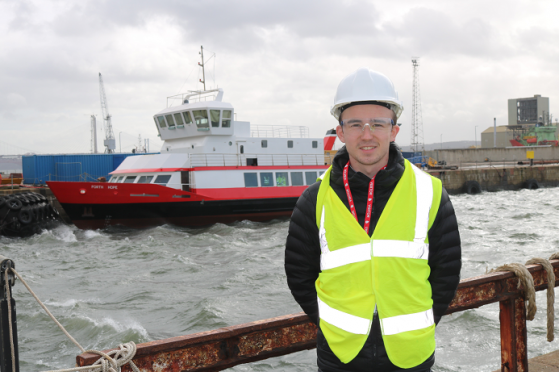 A Highland graduate has put a business career on hold to help save lives in the Amazon – and is braced for a bumpy ride.
Rory MacPherson has joined the crew of a medical ship that is due to sail from Rosyth tomorrow.
The flat-bottomed boat, which previously served as a short-distance ferry, is likely to encounter rather rougher seas over the next few weeks.
Mr MacPherson, from Inverness, said he was thrilled by the prospect of his South American trip to deliver the newly fitted medical vessel MV Forth Hope, that will provide free health treatment. The final destination for the six-week charity mission is Iquitos in the Peruvian Amazon.
The 22-year-old recently graduated at Strathclyde University in business studies. He volunteered his services to the Edinburgh-based Vine Trust charity and has been heavily involved in fundraising and promoting the trip.
His duties will include social media and cooking for the 12-strong crew.
The £3million boat has an operating theatre, consultation rooms, dental surgery and pharmacy.
The aim is to enable international medical and dental volunteers, alongside a team of local clinicians, to transform the lives of some of the world's most vulnerable people.
Mr MacPherson said: "The Atlantic crossing is going to be choppy. It's a flat-bottomed boat that was designed for a five-minute crossing from Portsmouth to Gosport. Now, we're about to sail 7,000 miles all the way across the Atlantic and up the Amazon.
"I'm massively excited. It's going to be a great experience – a challenge for someone with limited cooking and sailing experience. It's an opportunity to use my social media skills and broaden my cooking skills."
The Peruvian president Pedro Pablo Kuczynski and the charity's patron the Princess Royal are due to meet the crew during their stay.
The Vine Trust is combating poverty in Peru and Tanzania by building homes and providing healthcare.
Its chief executive Willie McPherson said: "We've always sought to make a significant and lasting impact on the people we support, offering effective help to vulnerable and isolated communities living in poverty.
"The delivery of MV Forth Hope to the Amazon will double the current capacity of our Peru medical programme, enabling the provision of 200,000 consultations per annum and deliver invaluable primary healthcare services to the remote riverine villages."
Medical programme manager Kenny Holt said: "This will enable the trust to significantly increase and enhance much needed primary healthcare services."
The vessel is expected to deliver more than two-million consultations over the next 20 years to communities that would otherwise be without access to primary healthcare.
Joining the charity's other Peru-based ship "Amazon Hope 2," the programme will visit more than 160 communities on the Amazon and its tributaries.
Anyone wishing to make a donation can do so online at mydonate.bt.com/events/floattheboat