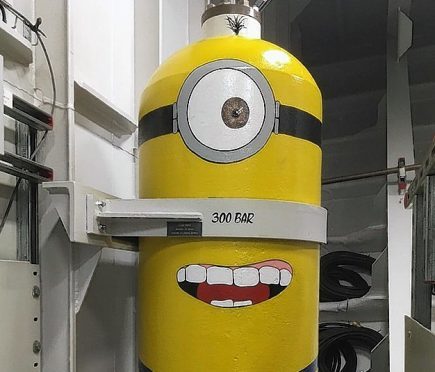 A children's movie character has been welcomed aboard the Royal Navy's largest warship during her call at a Highland port.
The Minion, from the Despicable Me films, appeared below the deck of the HMS Queen Elizabeth aircraft carrier as she remained docked at Invergordon.
Crew members got "busy with paintbrushes" as they continued the tradition of sailors adding their own personal touch to warships by decorating the vessel's internal equipment.
The Aircraft Carrier Alliance said the painting helped the sailors feel at home on the new ship.
A spokesman said: "HMS Queen Elizabeth will be home to her ship's company for months at a time and this is a real example of how they're really enjoying being on board and establishing their working and living routines whilst we undertake contractor sea trials."
HMS Queen Elizabeth arrived in the Cromarty Firth almost two weeks ago during her maiden sea trials and has been docked at Invergordon since.
She set off on June 26 from the Rosyth shipyard, where she was built alongside sister vessel, the Prince of Wales.
More than 700 sailors, led by Commanding Officer Captain Jerry Kyd, and 200 industry contractors, have sailed with the carrier on her maiden voyage.
Crew members from the 65,000-tonne aircraft carrier attended the Inverness Highland Games at the city's Bught Park last weekend, with some taking part in a record-breaking mass Highland Fling.
The Aircraft Carrier Alliance said the warship's sea trails were continuing.
The spokesman said: "HMS Queen Elizabeth is making progress through her sea trials programme, which is designed to test the full spectrum of her vast and complex systems.
"We fully anticipate this will identify areas for improvement that will be addressed at sea, during a number of routine port stops or as part of the planned engineering period."
The vessel – which is longer than the Houses of Parliament and taller than the Niagara Falls – will carry Merlin, Apache, Wildcat and Chinook helicopters, as well as F-35 fighter jets.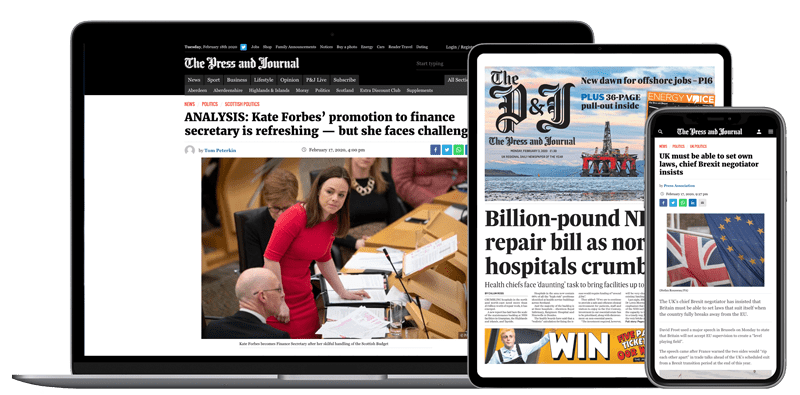 Help support quality local journalism … become a digital subscriber to The Press and Journal
For as little as £5.99 a month you can access all of our content, including Premium articles.
Subscribe