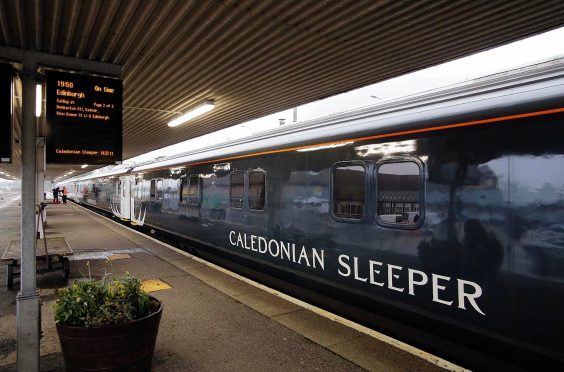 A Highland politician has hit out at a train company boss for allowing licenced firearms to be carried on the famous Caledonian Sleeper.
John Finnie MSP said he was "troubled" when Rupert Soames, chief executive of Serco – which runs the sleeper service – said that lawful guns could be taken on board.
ScotRail recently banned all firearms on its trains after a licenced gun was left unattended, a move that caused anger among gun users.
And now, Scottish Green Party member Mr Finnie – a former police officer – is calling on Serco to follow ScotRail's lead.
Mr Finnie said: "I am troubled by the flippant comments made by the Serco chief executive promoting the carrying of firearms on board trains.
"I think many of my constituents would be extremely uncomfortable to be seated next to someone carrying a shotgun headed for a shooting jolly in the Highlands.
"I very much welcome the ban introduced on board Scotrail trains and Serco should look to the public sector as it is ensuring that community safety is at the forefront in this matter.
"I have written to Humza Yousaf, the Transport Minister, to ask that Serco mirrors Scotrail's firearms ban on the Caledonian Sleeper."
Mr Soames wrote on social media in the past few days: "Worried about Scotrail Fireams ban? Relax @CalSleeper welcomes responsible customers with licensed firearms."
The Caledonian Sleeper Guest Charter confirms that, with an up-to-date firearms certificate and letter of authority, firearms can be taken onboard. The guest must stay with the weapon at all times.
Peter Glenser, chairman of the British Association for Shooting and Conservation, said: "The operators clearly recognise the benefits to their brand and Scotland of welcoming responsible, safety-conscious shooters on their trains.
"It is estimated that £155 million per year is injected into Scotland's economy by country sports tourism. With the 'Glorious Twelfth' just a couple of weeks away, it is fantastic news that the sleeper is happy to help maintain the tradition of shooters making their way to Scotland on the train.
"We continue to work towards ScotRail reversing its decision and hope it will eventually adhere to the national guidelines which allow a certificate holder to lawfully transport an unloaded gun with the train company's permission."
David Lister, ScotRail Alliance Safety and Sustainability Director, said: "The safety and security of our customers and staff is our number one priority. Following an incident earlier in the year, when a customer left a firearm unattended on a train, we reviewed our policy and decided that the best way to keep our customers and staff safe is to ban all firearms on ScotRail services. We are confident that this is a decision that will have the support of the vast majority of staff and customers."